SEPTEMBER 2008 NOMINATIONS
Anagrammy Awards > Nomination Archives > 2008
THE GENERAL CATEGORY
1st - Christopher Sturdy with:
What is forgetfulness? =
Losing where stuff's at.

eq2nd - Meyran Kraus with:
A rustling of the wind =
It's a wonderful thing.

eq2nd - Dharam Khalsa with:
Evangelical Christian =
I have certain callings.

Dharam Khalsa with:
Archaeological site =
A historic age locale.

Tony Crafter with:
Designation =
Inside, on tag!

Rick Rothstein with:
Evangelical Christians =
A clean-living chastiser.

Adie Pena with:
"Smoking helps you lose weight -- one lung at a time!" =
A message: "Light up now ... Get thin ... Kill someone: YOU!"

Dharam Khalsa with:
Recommendation =
Mention comrade

Dharam Khalsa with:
An art lost in ~
translation

View with:
Deniers of the Holocaust ~
cussed: "Oh, Hitler not a foe!"

Adie Pena with:
Mountains =
No tsunami!

David Bourke with:
Mastitis =
Tit amiss.

Rick Rothstein with:
Hallucinogenic drugs =
Girl on glue, acid 'n' such.

Andrew Brehaut with:
A royalist =
Alias: Tory

Dharam Khalsa with:
Search and rescue dog =
Such a godsend career.

Andrew Brehaut with:
Christ's tenure =
Sincere truths

Rosie Perera with:
Sarah Palin's glasses =
Lass's pair has angles.

Christopher Sturdy with:
To be a real flirt =
Bare for a little.

Adie Pena with:
Grin, bear it at ~
Great Britain

Rosie Perera with:
Internet archives =
Ancient hit server.

Adie Pena with:
Maestro =
Some art.

Dharam Khalsa with:
Sudden weight gain =
Egad, widening tush!

Dharam Khalsa with:
Trees in autumn =
Nature's minuet

Ellie Dent with:
New lover =
Now revel!


---
THE ENTERTAINMENT CATEGORY
1st - Adie Pena with:
Venus and sister Serena =
An assured tennis serve!

2nd - Scott Gardner with:
Claude Monet, "Houses of Parliament" =
Easel holds a picture of a monument.

3rd - Ellie Dent with:
Leonardo da Vinci's painting of the 'Mona Lisa' =
Model is an icon, and plain favorite, so hang it!

View with:
They Might Be Giants =
Get the many big hits

Tony Crafter with:
The Beatles 'Magical Mystery Tour' =
Boy! Let's try a great musical theme!

Dharam Khalsa with:
The world famous Edgar Allan Poe's poem, "The Raven" =
Lord, what a laugh at madness of people, "Nevermore"!

Rosie Perera with:
Tina Fey impersonates Sarah Palin =
I may appear as her on SNL if in taste.

Adie Pena with:
The Beatle Paul McCartney's "Friendship First" Tour =
Truth, it's lefty chap's debut performance in Israel.

Andrew Brehaut with:
Steinbeck's Lennie Small and George Milton =
Note best seller's goal: linking mice and men.

Meyran Kraus with:
The studio film 'Iron Man' =
I don this metal uniform.


---
THE TOPICAL CATEGORY
1st - Scott Gardner with:
"You can put lipstick on a pig, but itÕs still a pig" =
GOP guy picks Palin, but it is a political stunt.

2nd - Rosie Perera with:
A pitbull in lipstick =
But I still pick Palin.

3rd - Meyran Kraus with:
The actor Paul Newman is dead =
I saw a talented chap mourned.

Adie Pena with:
Gustav nears =
Turns savage!

David Bourke with:
Neil Ramsay is recovering from his stag-do =
"My crisis flares: Vomit, groaning, sore head!"

Neil Ramsay with:
Malware is found on ISS laptops =
NASA posts worm in file uploads.

View with:
Bristol is pregnant =
Brings Palin to rest?

Adie Pena with:
Republican Senator John Sidney McCain III ~
in trouble; can diminish joy, increase panic.

Adie Pena with:
"Change is coming!" =
McCain's going, eh?

View with:
Tropical storm Hanna ~
can harm lots in a port.

Andrew Brehaut with:
The series of hurricanes Hannah, Ike and Gustav ~
can hit, ravage, shake and ruin the fine US shores.

Adie Pena with:
But Palin cheers ~
the Republicans.

Rosie Perera with:
"One heartbeat away from the presidency" =
If yon weary creep met death, bet on Sarah!

Rosie Perera with:
McCain and Palin as "maverick team" =
Alaskan imp and me, a cancer victim.

Dharam Khalsa with:
Can Alaskan Palin be qualified to ~
face bill on Al Quaeda in Pakistan?

Dharam Khalsa with:
Is Sarah Palin qualified to take on functions ~
if Al Qaeda continues to flourish in Pakistan?

Rosie Perera with:
Lance Armstrong comes out of retirement =
Momentous glories for cancer treatment.

AH with:
Lance Armstrong comes out of retirement =
No cancer is left. More great Tour moments?

Ellie Dent with:
Nasty politicking in the United States =
The 'lipstick' taunting is intense today.

Dharam Khalsa with:
Galveston, Texas =
Next gale so vast!

Dharam Khalsa with:
Mom uses daughter's ID to be cheerleader =
Seems mother could graduate beside her!

Richard Napier with:
Newcastle United is for sale =
Dennis Wise creates fallout

Adie Pena with:
Troopergate =
Er, tore at GOP!

Dharam Khalsa with:
Men incur a giant loan to repair ~
American International Group

Meyran Kraus with:
The Israeli government =
Livni emerges at throne.

Adie Pena with:
Vice President Hillary Clinton? =
Critics inherently loved Palin!

Rosie Perera with:
Study shows cell phones can affect sperm quality =
Technique spelt success: hold away from pants fly.

View with:
Lehman Wins U.S. Court Approval for Sale to Barclays =
A rich buyer's smart proposal can solve an awful lot?

Tony Crafter with:
JK Rowling donates £1m to the Labour Party funds. =
£1m aid! Let a joyful Gordon Brown sputter, "Thanks!"

Adie Pena with:
'Long and painful recession' =
Confusing personal denial?

Rosie Perera with:
Pakistan's leader tells Palin she's 'gorgeous' =
Another plus, glasses gal! So like a president!

View with:
Bush: 'Entire economy' at risk =
Intent: "Oh, mercy! USA is broke!"

Adie Pena with:
Popular, terrific 'voice,' retired Ed McMahon, strives ~
in the viral FreeCreditReport.com rap music videos.

Adie Pena with:
Home foreclosures ~
force our homeless!

Paul Pan with:
Many lolitas to avenge ~
Evangelist Tony Alamo !

Scott Gardner with:
The American presidential debate =
Hear men trade ideas in epic battle.

Ed Pegg Jr with:
Sarah Palin deletion =
national leadership

Ed Pegg Jr with:
American conservatives =
Senator McCain aversive

Ed Pegg Jr with:
Abortion pills =
Bristol Palin: O.

Ed Pegg Jr with:
Bail-out rescue plan =
A bull in outer space.

Dharam Khalsa with:
Become volunteers in ~
US November election

Rosie Perera with:
The social conservatives =
"Let's vote novice Sarah." (sic)

Adie Pena with:
Palin-tology =
Tip: Loony gal!


---
THE PEOPLES NAMES CATEGORY
1st - Scott Gardner with:
Michael Fred Phelps of the USA =
He'll match pure speed of a fish!

2nd - Adie Pena with:
Vice President Sarah Palin =
Invest in a crap leadership.

3rd - Richard Brodie with:
Sarah Louise Heath Palin =
Alas, her lip has a hue on it.

Adie Pena with:
Abhor the grumpy ~
Humphrey Bogart.

Plain Lib Sort with:
Bristol Palin à
Brat is on pill

Chris with:
Esther Louise Rantzen CBE =
Oral Census: zebrine teeth.

Dan with:
Sarah Palin =
A sharp nail!

Rick Rothstein with:
The Republican's Vice Presidential candidate =
Sarah Palin is decent, divine, predictable, cute,...

Tony Crafter with:
Amanda Seyfried à
I am a faded syren.

View with:
Russian President Dmitry Medvedev =
I drive state. Never mind muddy press.

Dharam Khalsa with:
The American novelist David Foster Wallace =
Overrated vacant tales; claimed his own life.

David Bourke with:
Gun-Marie Fredriksson =
"Murder a fine song" risk.

Christopher Sturdy with:
Yves 'Fusionman' Rossy =
Famous nervy sissy, no?

Adie Pena with:
Sarah Palin =
A 'SNL' pariah? ;-)

Meyran Kraus with:
Marion Cotillard's Edith Piaf =
I'd nail that period-film Oscar.


---
THE OTHER NAMES CATEGORY
1st - Scott Gardner with:
Palace of Westminster, London =
Scene of old town's Parliament

eq2nd - Dharam Khalsa with:
The Louvre Museum in Paris, France =
Peruse much in marvelous fine art.

eq2nd - Tony Crafter with:
The American Society of Retinal Specialists =
Cataract in section of his eye? Simple - laser it!

Adie Pena with:
The American Association of Retired Persons ~
name the attire for senior occasions: Diapers!

Rosie Perera with:
The Greek Acropolis =
Other age's rock pile.

David Bourke with:
Sevenoaks District Council =
Oil-vend rise, cut in sack cost.

David Bourke with:
The National Federation of Private Pet Crematoria =
A pale, terminated cat into the fire for evaporation.

Andrew Brehaut with:
United States Marine Corps =
Team raids spent countries

David Bourke with:
The Republicans =
Sheep lubricant

Meyran Kraus with:
The Large Hadron Collider in Geneva =
Enthralling device or a "hole" danger?

Rosie Perera with:
The American Association of University Professors =
It's a voice, or symposia, for US nation's finer teachers.

Rosie Perera with:
American Bill of Rights =
Aim: bring ethics for all.

David Bourke with:
Birmingham Sea Life Centre =
A terrible fish menacing me!

Dan Fortier with:
Washington Mutual =
Tumult shown again.

Adie Pena with:
Lehman Brothers =
Shalom, brethren.

Andrew Brehaut with:
Anglicans nestled ~
in England's castle

Dharam Khalsa with:
Adult movie theatres ~
do have mature titles.

Dharam Khalsa with:
Wall Street's New York Stock Exchange (NYSE) =
Ghastly lows were seen, next can skyrocket!

Dharam Khalsa with:
The United Kingdom =
Men outdid the King!

Rosie Perera with:
The Nuclear Non-Proliferation Treaty =
Not any fuel ore in their reactor plant.

Adie Pena with:
Washington Mutual Inc. =
What?! Closing in autumn?!

Dharam Khalsa with:
Weight Watchers International, Inc. =
We teach restraint on wanting chili.

View with:
Nova Scotia and Prince Edward Island =
Reword: Splendid vacations in Canada.

Meyran Kraus with:
The terracotta soldiers of Shi Huang Di=
Historical site of the hard stone guard.


---
THE MEDIUM LENGTH CATEGORY
1st - David Bourke with:
The Republicans' American presidential candidates =
McCain and Palin unite - a predictable sheer disaster!

2nd - Ellie Dent with:
Thomas Hardy's 'Tess of the D'Urbervilles, A Pure Woman Faithfully Presented' =
The unhappy farm lass suffers so, with love, betrayal: then, led to murder, dies.

3rd - Meyran Kraus with:
Senator McCain, asked about Sarah Palin (who seldom travels outside the US) and about her foreign policy experience...=
The Republican candidate replied, "Oh, but my companion was elected as Governor of Alaska. Her house is next to Russia!"

Rosie Perera with:
Dame Helen Mirren admits she was date-raped "a couple of times" when she was young =
We see the man's deed is what happens when you're a famous immodest "calendar girl."

Dharam Khalsa with:
We four surviving typists laugh when the physician dictates her odd errors like this: =
"The patient has had previous surgery on his left wrist. This occurred while skydiving."

Dharam Khalsa with:
President Bush says John McCain is "ready to lead" the United States. =
Dynamic speech? I say aside, "Just don't let his ass near the red button!"

Andrew Brehaut with:
George Bush backs the Senator John McCain's run for the president. =
Bugger's no chance around better persons if that jerk's chosen him!

Adie Pena with:
"I've reached the age where the happy hour is a nap." - Anonymous =
Hey! Even though each man happens to wear diapers, I hear you!

Dharam Khalsa with:
"Desperate Housewives" motivated star Teri Hatcher coaxes all to follow her key goals to happiness. =
Stratagem: "Have sex, eat chocolate, avoid toilet seats, keep hope, drop worry - the sun will rise...ah, floss!"

Adie Pena with:
"My friend John and George Bush are joined at the hip. And we need a hip replacement." =
Joe Biden enthused: "I'd prefer a major change, dear, than employing the new pinhead!"

Dharam Khalsa with:
Scientists 'in the know' flip switch on mighty Large Hadron Collider. Wait boys! ~
Renowned astrophysicist Hawking bets it will not find the cosmic holy grail.

Rosie Perera with:
"You can put lipstick on a pig, but itÕs still a pig." (Barack Obama) =
Gambit to gain US publicity: a black pro attacks pious Palin.

Adie Pena with:
"You can put lipstick on a pig, but it's still a pig." (John McCain in October last year) =
Just that same nice barb. A political opportunistic guy gaily picks on Clinton.

Tony Crafter with:
What is 12 inches long, silver and the worst thing you could ever find at the bottom of your daughter's bed?

Gary Glitter's boots. =
Rich singer Gary Glitter bought five hundred vats of wine 'cos the bottle said: 'Robust 12-year-old that goes down smoothly'.

Nut!

Adie Pena with:
"You can wrap an old fish in a piece of paper called change. It's still going to stink after eight years." (Obama) =
Years ahead, McCain and Palin will apply its past -- the freaking atrocities of one acting fool: George Bush!

Rosie Perera with:
A new National Sleep Foundation poll shows that nearly one fourth of all married couples in the US sleep separately=
Mates prefer this lone approach; one is out late, one is up early; one snores loudly and hates that awful flannel pillow.

Rosie Perera with:
Q: What are the Democrats' current favorite school subjects?
A: Palin-tology and Trig-onometry.=
Who do Republicans enjoy, try to elect?
Oh, static squatter McSame and that girl-for-a-governor.

Rosie Perera with:
Hi there. Do you vomit, eat laxatives, or imagine the shiny, rail-thin, gaunt, bony girls sure are rad? If so, ~
you might have an eating disorder (it's either anorexia or bulimia). Starving yourself is not healthy!

Rosie Perera with:
The next president of the United States, whether it be Obama or McCain ~
has to fix the combat mess we entered in, cut the debt, repair the nation.

Dharam Khalsa with:
Richard Wright, the Pink Floyd's founding member and the original keyboardist, has gone on to ~
"The Great Gig in the Sky" band, rainbow prism in hand for duly coloring the "Dark Side of the Moon".

Rosie Perera with:
Treasury Department and Federal Reserve orchestrate $85 billion bailout of insurance giant AIG
=
Not since '58 have adults seen so terrible a fund failure triggered. Can Obama repair it? No, try later.

Rosie Perera with:
"The fundamentals of the economy remain strong." (John Sidney McCain, on the day of the worst US market tumble since 2001)=
Eminent men warn monthly: "Think! Eject the confused, out-of-touch, damn old fart! His memory's absent since 10-20 years ago."

AH with:
The London Underground (alternatively known as The Tube) =
Undertook travel on the train by huge tunnels, old and new.

Rosie Perera with:
Before Mount Everest was discovered, what was the highest mountain visible on earth? =
That's evocative of "Who is buried in Grant's tomb?" (In what?! Oh, these answers ever elude me.)

Rosie Perera with:
"Lord, give me chastity, but not yet" (Saint Augustine is credited with praying this prayer) =
"Lord, give me patience, and hurry up about it!" (Yes, try dictating this with integrity, asses!)

Rosie Perera with:
Wisconsin's Georgia Pacific to debut three-ply toilet paper Monday =
Copyright notice: A nice and soft rag, I wipe more people's butts daily.

Rosie Perera with:
Receiving the applause from an appreciative audience =
I hear piece's performance up at venue and I give it a clap.

Dharam Khalsa with:
The organic red wine dubbed "Palin Syrah" comes from a small winery in northern Chile.=
American barmen worry, sending their recalls. Why? It's rich, full-bodied, a phenomenon!

Adie Pena with:
"Why go out for a hamburger
when you have steak at home?"
(Paul Newman)=
Naughty harm; shag a few?
How human!
Keep a love; be true
To your woman.


---
THE ANAGRAMMY CHALLENGE CATEGORY
1st - Rosie Perera with:
I respectfully request to be relieved from the command of this army =
My protest delivered, I'm off to Quebec. It's normally much safer there.

2nd - Larry Brash with:
I respectfully request to be relieved from the command of this army =
President Bush reflected: "My time has come to formally quit forever".

3rd - Neil Ramsay with:
I respectfully request to be relieved from the command of this army =
I'd really much prefer to yet be free from this most evil, mad conquest.

Mike Mesterton-Gibbons with:
Overcome by liquor, I let my Mrs help the men to suffer drastic defeat

Tony Crafter with:
Morally corrupt Hood effectively misremembers defeat then quits!

Tony Crafter with:
"Carthorses free. Effectively pummelled. Best quit. I'm no martyr!" Hood.

Dharam Khalsa with:
as overqualified men try to decipher so much from letters left by me

Dharam Khalsa with:
Cover me--I left the bad pressures to quietly flee to my Richmond farm.

Adie Pena with:
Both forces fully savored my quite formal, timed retirement speech.

Rosie Perera with:
I firmly quit the trenches. Some mere total bluff? Over my dead corpse!

Andrew Brehaut with:
Hey, sir. To protect myself from dull confederate members, I have quit.

Chris with:
Direct request: The maps chafe my bum. Send every toilet roll or I'm off.

Larry Brash with:
Larry Brash must not ever seem to imply he'd quit from elected office.

Dharam Khalsa with:
This folly! My captured men required effective armor, helmets, boots!

Dharam Khalsa with:
but Pres. Davis requires me to march my fiftyfold men there to Col. Lee

Tony Crafter with:
"Battle from Hell. Army stretched. Enemy's romped over us. I quit office!"

Rosie Perera with:
I remember this quaintly clever former dot-dash stuff. Copy me to Lee.

Adrian Hickford with:
From the Clumsy Chief: Battle over. Most men dead. RIP. Feel quite sorry.

Dharam Khalsa with:
Do replace me, as my quite frostbitten, rheumy feet shrivel from cold.

Rosie Perera with:
Letter: "I'm very squeamish, fainted from the spurt of blood. Recycle me."

Ellie Dent with:
For the record, I must remove myself: quit Company's battlefield here.

Dharam Khalsa with:
I'm no quitter, but the saddle flares my piles; moreover, fetch comfrey!

Dharam Khalsa with:
I'm sequestered off post for a murder trial; let my voice be, "Lynch them!"

Dharam Khalsa with:
The quite noble Tory, Earl of Chesterfield, diverts me from my US camp

Ellie Dent with:
Beheld my troops, overstretched, face fire: many more fell. I must quit.

Christopher Sturdy with:
Prerequisite to blot the cursed Nashville from my affected memory.

Adie Pena with:
Do remember me; my perfect failures to strictly vanquish the old foe.

Dharam Khalsa with:
My camp became ill, fevered from dirty hotel sheets for tourniquets.

Dharam Khalsa with:
Damned observers critique my temper; I sourly tell them each to f*** off!

Michael O. with:
Bluecoats quieted off my Nashville forces. My error permitted them!

Dharam Khalsa with:
Memo: I'm spurred off quietly to be father to my secret slave children.

Dharam Khalsa with:
I question my shameful forced battle motive, prefer the Lord's mercy.

not saying with:
My soldiers frequently 'beat the meat', or drip some cum over the cliff.

Meyran Kraus with:
The live dispatch forms R.E. Lee's famed quote: "I tremble for my country".

---
THE LONG CATEGORY
1st - Tony Crafter with:
A wife was in the kitchen, preparing to boil some eggs for breakfast, just as her husband walked in. She turned round and said, "You've got to make love to me now."

His eyes lit up and he thought, 'Man! This is my lucky day!' Not wanting to lose one precious moment, he said, "Sure!", embraced her and then gave his all; right there on the kitchen table.

Afterwards she said, "Thanks," and returned to the stove.

His curiosity aroused, he said, "What was that all about?"

She replied, "The egg timer's broken."

=

A trucker, who has been on the road for three weeks, halts at a brothel-dinette outside Vegas. He walks straight up to the Madam, gives her five-hundred dollars and says, "Hi ma'am. I want to spend this on your biggest, ugliest woman and an egg sandwich!"

The woman is astonished. "Well, ok honey-pie, but for that kind of money you could have had just about the prettiest babe here and a three-course steak dinner," she suggests.

The trucker replies, "Listen darlin', I ain't horny. I'm homesick."

Rosie Perera with:
President Bush is busily rehearsing his speech prepared for the Beijing Olympic Games as the countdown progresses.
He begins his remarks with 'O! O! O! O! O!'~
His smug sober speech writer jabs him and whispers in his ear: "Oops, President GB, those are the Olympic rings. Look, big goof, see your speech is underneath!"

2nd - Dharam Khalsa with:
The man and wife had been married sixty delightful years, no problem or worry yet. They had shared all thoughts, had talked about everything easily, and had kept no secrets from each other, except that the woman had a shoe box high in a tall closet that she had cautioned him never to open.

The man agreed and never thought about it, but now the eighty-two-year-old woman had become very ill, helpless, and the doctor told them she would not recover.

That very night, while sorting all her affairs, files and clothes, the man remembered the secret box, got it down, and took it to her bedside.

The woman said, "I suppose it's time you should see what is there." But when he looked, he found only two soft crocheted dolls and a large fold of money worth $95,000!
~
When asked about the contents of the undecorated shoe box, she replied tenderly, "When we were about to get married, my grandmother told me the secret of a happy marriage was to never argue." She added, "And she told me that if I ever got angry or annoyed with you, I should hand crochet a doll."

The little old man was so moved that he had to fight to choke back tears. There were only two precious, faded dolls in that box. Had she been angry with him only twice in all those many years of love, fatherhood, and living together? He almost burst with happiness!

"Honey," he ventured curiously, "that explains the dolls, but what about the $95,000 in the back of that box? Where did it come from?"

"Oh," she nodded, "that's the money I made from selling all the other dolls!"


3rd - Adie Pena with:
TOP 10 THINGS YOU DIDN'T KNOW ABOUT JOE BIDEN

10. In the days leading up to the VP announcement, the reason he told reporters "I'm not the guy" was because he assumed they were questioning the source of a certain smell.

9. Secretly, he has a crush on Obama.

8. As an old (& thirty-five-year) veteran of Washington, D.C. who voted to authorize the Iraq War, he has nothing in common with John McCain.

7. He brags about how many interns he's "vetted."

6. In the painting of George Washington crossing the Delaware River, Biden's the one with the metal detector looking for loose change.

5. His first act in office will be to deport all illegal midgets.

4. When he gets really mad and loses his temper, he's prone to say things that make sense.

3. He was born in Scraton, PA, but has never worked an honest day in his life, at Dunder Mifflin.

2. He aspires to be just like the soon-to-be ex-Vice President Dick Cheney, only meaner.

1. Not long ago, he was changing Obama's diapers. And now Obama gets to return the favor.

=

TOP 10 REASONS OBAMA ANNOUNCED HIS VP OVER TEXT MESSAGE

10. Non-deterrent. It would engender a fight between Hillary and Bill over his "roaming" charges.

9. Typed a special way, a smiley face can look quite like an irreverent fist jab.

8. Rotten Osama Bin Laden's cave smoke signals are so prehistoric and very passe.

7. Demonstrate, therefore heighten modernization. Inveterate John McCain won't figure out how to access it for years!

6. He could do it while watching hot and horny women's tennis.

5. To taunt enthroned moron George Bush's high (groggy?) twin daughters, because the slogan of AT&T Mobile is "More bars in more places."

4. Just when you thought his speeches were grandiloquent, he's the mack daddy at "LOL" and "BRB."

3. His toothsome (hot honey!), independent wife won't get off the phone.

2. Sheer nonsense. It's about time he did something with hype and no substance.

1. Ethnographers note that it's what all the cool, inventive half-black-Kenyans-half-white-Hawaiians are doing.

Rosie Perera with:
OLYMPIC OOPSIES

Here are the top nine comments made by NBC sports commentators during the Olympics that they would like to take back:

1. Weight-lifting commentator: 'This is Gregorieva from Bulgaria. I saw her snatch this morning during her warm up and it was amazing.'

2. Dressage commentator: 'This is really a lovely horse and I speak from personal experience since I once mounted her mother.'

3. Paul Hamm, Gymnast: 'I owe a lot to my parents, especially my mother and father.'

4. Boxing Analyst: 'Sure there have been injuries, and even some deaths in boxing, but none of them really that serious.'

5. Softball announcer: 'If history repeats itself, I should think we can expect the same thing again.'

6. Basketball analyst: 'He dribbles a lot and the opposition doesn't like it. In fact you can see it all over their faces.'

7. At the rowing medal ceremony: 'Ah, isn't that nice, the wife of the IOC president is hugging the cox of the British crew.'

8. Soccer commentator: 'Julian Dicks is everywhere. It's like they've got eleven Dicks on the field.'

9. Tennis commentator: 'One of the reasons Andy is playing so well is that, before the final round, his wife takes out his balls and kisses them... Oh my God, what have I just said?'

=

CAMPAIGN BLOOPERS

Here are the top nine faux-pas made by candidates and incumbents during the US presidential race that they would like to take back:

1. John McCain (jokingly): "Gee, that Sarah Palin is a slinky vixen!"

2. John McCain: "No, what I meant to say was, 'Sarah Palin is sweet -- a buxom sex goddess.'"

3. Senator McCain: "No, damn it! Stop misconstruing my words. I simply meant she's very pretty. She'd make a great VP, as she looks nicer than Dick Cheney."

4. Barack Obama: "If I am elected president, I vow to change everything, starting with my underwear tomorrow."

5. Sarah Palin: "My favorite bumper sticker is: 'I'd rather be drilling for oil in Alaska.'"

6. Senator Biden: "Note: I'm not as much of a fossil as McCain is."

7. George Bush: "What's this gizmo for? This red button, I mean. Oh boy! I feel like I could launch ten thousand shells with a single reflex. The terror! I feel a bit foggy from all that alcohol (ten canteens). Tee hee, tee tee hee. My sweet mother always told me to avoid the super strong stuff."

8. Cheney (monotone): "Honest, I haven't fired my gun at my fellow. See, it's still here in the holster. Oh, shit! It isn't there. Oopsie!"

9. G. Bush (not seeing teleprompter): "There is no noble choice in this election. I might vote for myself."

Larry Brash with:
GUTS is coming home late drunk after an extremely big night out with the lads, to be assaulted by your wife with her broom, and having the guts to reply: "Holy Crap! You still up cleaning or are you about to fly off somewhere?" =
BALLS would be, after a great guys' night out, you coming home with them, smelling of perfume and alcohol, the lipstick on your dirty shirt, grabbing your wife's arse and you have the balls to utter: "Whoopee! You're next, fatty!"

Dharam Khalsa with:
All that mad constant talk lately over drafting a full constitution to defend autonomous Iraq sounds too complicated. Hell, what harm is there in just giving them ours? It was written up by a bunch of talented men, has been successful without a loophole for two hundred years, and...we're not using it any more!
=
What is the real reason we forbid posting the Ten Commandments at US courthouses?

We can't afford to hang up 'Thou Shalt Not Steal', 'Thou Shalt Not Commit Adultery', and 'Thou Shalt Not Lie' in buildings full of lawyers, judges and politicians...it would create quite an uncomfortable everyday work environment!

Dharam Khalsa with:
While campaigning in Iowa last year in October, Senator John McCain used the popular expression to criticize Hillary Clinton's revamped US health care plan, arguing that it wasn't much different from the one she had pushed before. "I think they put some lipstick on the pig, but it's still a pig," he said.
=
Weary southwesterner McCain brought up the chiding phrase again in May of this year describing the health care champion's fresh maximized plan to cap profit in a local town hall luncheon in Denver. "I don't like to use this term, but the latest proposal I see is putting lipstick on a pig," he justified.

Rosie Perera with:
Forbes' list of the ten Most Overpaid Celebrities:
Russell Crowe
Nicole Kidman
Jim Carrey
Will Ferrell
Jennifer Lopez
Adam Sandler
Cameron Diaz
Denzel Washington
Will Smith
Tom Cruise=
Newsmen write the list of mindless idlers, useless meddlers, willful politicians (memorize it!):
That "W" feller
John McCain
Condoleezza Rice
Barack Obama
Governor Palin
Jerry Ford
...
I relent.



Rosie Perera with:
Sarah Palin claims she knows enough about Russia to be vice president because on a clear day she can see that country from her state.=
Unbearable! To have seen the Siberian tundra is not to grasp the supremacy of Moscow. Such a take can't succeed. See, Sarah is no Hillary.

Dharam Khalsa with:
Enraged pig farmers all over the United States are on the sloshy battlefront bellowing, "Stop!! All this demeaning junk about pigs 'n' lipstick is very offensive to our shy pigs!"
=
Appallingly, no reporter is even asking the rural pigs themselves if they are offended, but it could be mostly an oversight; the pigskin football season is just starting now.

Adie Pena with:
HYMN #930

A spiritually-charged minister was completing his temperance sermon. With great emphasis he said, 'If I had all the beer in the world, I'd take it and pour it into the river.'

With even greater emphasis he said, 'And if I had all the wine in the world, I'd take it and pour it into the river.'

And then finally, vigorously shaking ~

his fist in the air, he said, 'And if I had all the whiskey in the world, I'd take it and pour it into the river.'

With the thrilling main sermon complete, he sat down praying.

Adie Pena, the imaginative leader, stood and bravely said with a smirk, 'For our remaining piece, step up children, let us sing Hymn #930, 'Shall We Gather at the River.'

Rosie Perera with:
Memorable Presidential Debate Moments

1. "There is no Soviet domination of Eastern Europe." (Gerald Ford)

2. I am paying for this microphone!" (Ronald Reagan)

3. "I will not make age an issue of this campaign. I am not going to exploit, for political purposes, my opponent's youth and inexperience." (Ronald Reagan, age 73, when challenged on whether he was too old for office)

4. "I served with Jack Kennedy. I knew Jack Kennedy. Jack Kennedy was a friend of mine. Senator, you're no Jack Kennedy." (Lloyd Bentsen's response to Dan Quayle after the latter compared himself to Kennedy)

5. "Who am I? Why am I here?" (Admiral James Stockdale, Perot's running mate)

6. The famous 1960 Nixon-Kennedy debate at which a profusely sweating, unshaven Richard M. Nixon refused makeup and came across as untrustworthy to the TV audience who were seeing a televised debate for the first time.=
Some Quotes We Can Expect from the Obama-McCain and Biden-Palin Debates

1. "I'm just a hockey mom from Alaska. However, everyone can expect me to know a lot on foreign policy. Russia is just over the water from us. Gee, I could shoot a moose in Siberia from my yard! When felon Putin sends 36 fighter jets to attack us, where d'ya think they're going to fly? Over Alaska! I keep an eye on him from my kitchen window while I'm making cookies for the kids."

2. "Senator, with all due respect, how do you think a '09 surge in Afghanistan can protect the world from jihad?"

3. [Sneer] "That's another flagrant example of partisanship!"

4. "We have to stop exploiting oil and join England in work at energy independence." "And your point is?"

5. "...need an end to Bush's failed policies... Yada yada."

6. "Men, men, Alaska's underrepresented rural female gender need a tender defendant: me!"

7. Neener-neener!


---
THE SPECIAL CATEGORY

1st - Adie Pena with: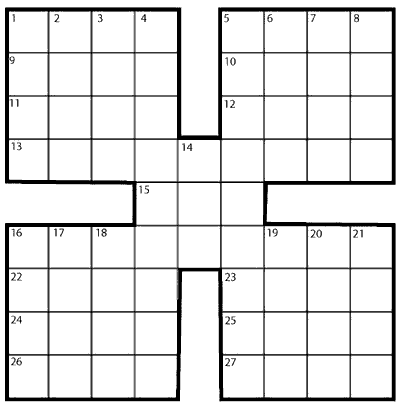 ACROSS
1 Staff
5 An Arab governor
9 Leaf
10 Rather suitable
11 Sea
12 Tennis serves
13 Most fantastic
15 "I'm a seaman!"
16 Croc
22 Handsome television star
23 Get going!
24 Town
25 Actor Allan Lane's wise horse
26 Bills
27 Japanese money

DOWN
1 Resorts
2 Percent
3 Alga
4 Poppas
5 Great site
6 Timid men
7 Freezes water
8 To doze
14 Harry
16 Help
17 Tardy
18 Threatening animal
19 Tattered
20 Airtight kiln
21 Crimson, fuchsia and rose

~

What makes this CROSSWORD PUZZLE different from the rest is that all
the letters in the answers (inclusive of this note) are an anagram of
the definitions. So grab a pencil and enjoy!

ACROSS
1 _ _ _ _
5 _ _ _ _
9 _ _ _ _
10 _ _ _ _
11 _ _ _ _
12 _ _ _ _
13 _ _ _ _ _ _ _ _ _
15 _ _ _
16 _ _ _ _ _ _ _ _ _
22 _ _ _ _
23 _ _ _ _
24 _ _ _ _
25 _ _ _ _
26 _ _ _ _
27 _ _ _ _

DOWN
1 _ _ _ _
2 _ _ _ _
3 _ _ _ _
4 _ _ _ _ _ _ _ _ _
5 _ _ _ _ _ _ _ _ _
6 _ _ _ _
7 _ _ _ _
8 _ _ _ _
14 _ _ _
16 _ _ _ _
17 _ _ _ _
18 _ _ _ _
19 _ _ _ _
20 _ _ _ _
21 _ _ _ _

The Solution


2nd - Dharam Khalsa with:
Note: (not part of anagram) "Obama or McCain as President" is the title and also runs down the left side in bold letters. Each line is an anagram of the title. To check it, I ran it through Anagram Artist with "Obama or McCain as President" 24 times. This was a lot harder than I thought it would be. Hope it makes sense to you. Thanks for looking!

****************************************
OBAMA OR MCCAIN AS PRESIDENT
Bipartisan, a road commences
America beams its pro and con.
Misconceptions bear a drama
An impasse in a record combat.
Obama can inspire Democrats,
Raise past damn economic bar.
McCain made a prisoner boast,
Can broadcast pain memories.
Companies remain bad actors
And compare as rise in combat
In command bases or at a price.
No promise can be as dramatic
As combat-prisoned American,
Since armada son bore impact.
Parties are basic and common;
Racism became a nation's prod.
Embrace radiant compassion;
Spirit can become a man's road.
In America, no combat spreads;
Dreams combine as in a top arc,
Encompass and orbit America.
No praise, as drab to me, McCain;
Top card Obama is sincere man!


3rd - Tony Crafter with:
Mandy


Dharam Khalsa with:
Mandy


Tony Crafter with:
A young blonde Portsmouth girl who was down on her luck, decided to end it all one night by casting herself into the cold, dark waters off Gunwharf Quay. As she stood on the edge, pondering the infinite, a young sailor noticed her as he passed by.

'You're not thinking of jumping, are you babes?' he asked her.

'Yes, I am,' replied the sobbing girl.

Putting his arm around her, the kind sailor coaxed the girl back from the edge, saying, 'Hey, nothing is worth that. I'll tell you what; I'm sailing off for Australia tomorrow. Why don't you stow away on board and start a new life over there, huh? I'll set you up in one of the lifeboats on the deck, bring you food and water every night and I'll look after you if you'll look after me - if you see what I mean. You will have to keep very quiet though, so you won't be found'.

The girl, having no better prospects in sight, decided she'd do it, and the sailor sneaked her onto the vessel that same night. For the next three weeks the sailor came to her lifeboat every night, bringing food and water, and made love to her until dawn.

Then, during the fourth week, the captain was performing his routine inspection of the deck and its lifeboats. He pulled back the cover, found the startled blonde, and demanded an explanation.

The girl decided she'd just come clean, and said, 'I've stowed away because I thought I could reach Australia and perhaps find happiness. One of the sailors is helping me out. He has set me up in here and brings me food and water each night and he's screwing me.'

The captain stared at her for a moment before he replied, 'He certainly is love.

This is the Isle of Wight Ferry .'

=

A woman went to town on a shopping spree. She started off buying the most exquisite Italian shoes at the first shop and a gorgeous dress in the second. In the third, every item had been knocked down to a fiver. Then her mobile phone rang. It was a female doctor notifying her that her husband had been involved in a terrible accident and was in a critical condition. The wife asked the doctor to inform her husband where she was and that she'd get there straight away.

After hanging up, she realised she was about to forgo what looked like being her most gratifying day ever in the shops, and resolved to go to just one more before leaving for the hospital...

She ended up shopping for the rest of the morning, finishing off with a complimentary mug of tea and a slice of gooey cake after, in the leg-waxing parlour. Then she remembered her husband. Feeling guilty, she immediately took a taxi to the hospital.

On going in, she saw the female doctor in the corridor and asked about her husband's condition. The female doctor glared at her and yelled, "You went ahead and finished your shopping trip didn't you! I hope you're proud of yourself! While you were off gallivanting in town, your husband was vegetating in the Intensive Care Unit! The outlook is bleak, and it's as well you went ahead and finished, because it will more than likely be the last shopping trip you'll ever take! For the rest of his life he'll require round-the-clock care. And youÕll be the carer!"

The woman felt so guilty she broke down and cried.

The lady doctor then chuckled and said, "I'm just pulling your leg. He's dead. What did you buy?"


Dharam Khalsa with:
ANIMAL SUPERSTITIONS

If you inadvertently walk into a spider web, you will soon meet a friend; if you spy a spider spinning a web, you will get new clothes -- but seeing a spider web in a kitchen says there is little love in that house.

A wish made on the first robin you see in spring will come true, as long as you finish your wish before the robin flies away.

When a swan takes off high into the air, you can expect a strong wind; stretching its neck back over its body signals a storm is on the way -- but seeing three swans in flight together is an omen of a natural disaster.

Meeting a goat on the start of a journey is a good omen; meeting a black goat means there is treasure nearby; keeping a smelly billy goat at home ensures the future health of your cows, sheep and horses.

Black rabbits are thought to host the souls of dead human beings; a white rabbit is thought to really be a witch; saying the phrase 'White Rabbit' on the first day of each month aids in bringing you luck.

A peacock's voice calling is an omen of rain, "When the peacock loudly bawls, soon we'll have both rain and squalls".

Horse brasses are favoured to protect horses from witches.

Meeting a Dalmatian dog is especially lucky, and a fleet greyhound with a white spot on its forehead is an indication of good fortune coming your way.
~
If a bat flies in your house window inexplicably, there are ghosts about. It's even worse if a bat flies around the house restlessly three times in succession; this is an omen of death. If bats come out early and fly around playfully, it confirms quite good weather ahead.

Never bet on any horse winning who's name has been changed. It's bad luck to willingly change the name of a horse, then bad luck to wish a jockey good luck before a race.

If a bee enters your home, be patient; it's a sign you will soon have a new visitor. Killing the bee ensures that the visitor will bring in scandal or bad luck. Beware a swarm that settles up on the roof; it's an omen that the house will burn down.

If you begin a game of cards and are asked to deal from a choice of two packs, it's best to choose the one farthest away; a dog lying in the room while a game is played is supposed to cause more disputes.

When pigs are seen hurrying about their sty, carrying lengths of straw in their mouths, ships beware -- a nasty storm is on the way. It is unlucky to have a pig cross your pathway; turn your back until it is gone. If a piggy begins to make a rather strange long whining noise, it is said there is to be a death in the family.

A swallow nesting on the roof is a known symbol of protection, especially against both lightning and fire.


Rosie Perera with:
Dear American:

I need to ask you to support an urgent secret business relationship with a transfer of funds of great magnitude.

I am Ministry of the Treasury of the Republic of America. My country has had crisis that has caused the need for large transfer of funds of 800 billion dollars US. If you would assist me in this transfer, it would be most profitable to you.

I am working with Mr. Phil Gram, lobbyist for UBS, who will be my replacement as Ministry of the Treasury in January. As a Senator, you may know him as the leader of the American banking deregulation movement in the 1990s. This transactin is 100% safe.

This is a matter of great urgency. We need a blank check. We need the funds as quickly as possible. We cannot directly transfer these funds in the names of our close friends because we are constantly under surveillance. My family lawyer advised me that I should look for a reliable and trustworthy person who will act as a next of kin so the funds can be transferred.

Please reply with all of your bank account, IRA and college fund account numbers and those of your children and grandchildren to wallstreetbailout@treasury.gov so that we may transfer your commission for this transaction. After I receive that information, I will respond with detailed information about safeguards that will be used to protect the funds.=
Those Nigerian scammers think they know a bit about how to solve the dreadful crisis in the American economy. Larry Brash should take this one up on his offer and mess with his mind for a while. (Actually, it's an Internet spoof, a very funny one at that.)

But I have some better suggestions for distrusted, baffled dullard Mr. Bush to mend the economic crisis. All set?

First, just stop borrowing money from our future generations to pay for this damned war in Iraq! It's not going to prevent another 9/11.

Second, the Berlin Wall came down in '89, you know, and for good reasons. Let's not build another like it separating us from Mexico. Those scruffy immigrants are a key part of our US economy. Let them work here.

Third, every worker (waiters, teamsters, firemen, secretaries, writers, etc.) suffers and should earn a better minimum pay.

Fourth, federal rules for financial conduct aren't bad but effectual. Ban and audit all radically successful CEOs' frills, they are dastardly rascals, awful ruffians.

Fifth, defeat all deliberate earmarks.

Please don't play chess with our financial security. I can see you treating us like pawns, castling there behind the front lines (do the symbols "0-0" and "0-0-0" mean anything to you?).

I can't wait until Obama wins and begins to clean up this mess you created. Now if only Sarah "Barracuda" Palin would stay way far out of the way.


Adie Pena with:
September Song


Dharam Khalsa with:
Adapted from A VP Debate Drinking Game
MIT's "The Tech" paper, Autumn Edition

Wow! Look! This Thursday! A national debate for the ages! Two contestants, one vice presidency (thankfully)! Who will earn that top honor of succeeding unpopular Dick Cheney?

In the blue corner, Joe "I take the train home" Biden. In the red corner, Sarah "I can see Russia from my house, huh?" Palin.

Blue Team Rules

* As soon as Biden starts the "I take the train home everyday" story, begin chummy drinking. Don't stop until he finishes.

* For every mention of hometown Scranton, Pennsylvania, take a sip.

* As soon as Biden mentions Palin's inexperience or lack of knowhow, drink something that you've never known before.

* As soon as Biden makes an obvious zany gaffe, promptly spill your neighbor's drink. Whoops!

* As soon as Biden uses a mammoth X word when a Y word will do, drink X-Y seconds.

* As soon as Biden patronizes or identifies with the working class, down that macho brew (bonus points for Miller Highlife).

* As soon as Biden lambastes phony Washington Insiders, make a toast to his thirty-five happy years of experience in the United States Senate.

The Joe Biden checklist: If he talks about ALL of the following, naturally you may finish your drink: Blue Collar, Golden Parachute, Little Guy, Washington Insider, Working Class, Clean.
~
Red Team Rules

* Every time Palin addresses Alaska's proximity to Russia as "foreign policy experience", take a shot of Russian vodka.

* When Palin claims she said "Thanks but no thanks" to the Bridge to Nowhere, demand a new drink from the host, say "Thanks but no thanks", then when no one sees, take it anyway and discard it, claiming you never wanted it.

* When Palin recounts featuring the governor's jet on eBay, auction off beer to your friends.

* When Palin insists governing a small town in Alaska is indeed experience, give your friend a shot glass of beer when he/she orders a pint and insist it does the same thing.

* When Palin points out that Biden thought Obama was too inexperienced for the job, finish your drink and say, "Oh Snap!" Follow this by defeated crying.

* When Palin claims that Washington's problems can be solved by small-town folksy knowhow and common sense, drink a Labatt Blue as you read up on how to become a Canadian citizen.

* When Palin talks about being the most popular, rock solid governor in the country, beg time out, proceed to a room by yourself, realize you're the most popular person in the room, then finish your drink.

Yes, it's the Sarah Palin checklist: If she mentions ALL of the following, finish your drink: Bush Doctrine, Snow Machine, Moose, Lipstick, Hockey, Family Values.


---
THE RUDE CATEGORY
1st - David Bourke with:
An erect phallus =
A prelate's lunch.

2nd - Dharam Khalsa with:
All you men want is one thing =
Lonely unhesitating woman

3rd - Rick Rothstein with:
God Damn Son of a Bitch! =
A night of bad condoms?

David Bourke with:
The Republican Party of Alaska =
To fuck Sarah Palin repeatably!

Paul Pan with:
Deep Throat =
Date the "pro".

Adie Pena with:
The striptease =
He sees tit part!

View with:
'Deep throat' =
Eat the prod

Paul Pan with:
The Republicans =
Lube a sphincter!

View with:
X-rated movie theatres =
A sex art? Vomited there!

Tony Crafter with:
Thick, 'n' ain't drooping =
A north-pointing dick!

View with:
Palin meets world leaders at UN =
'Wet' around all male presidents

Paul Pan with:
Evangelist Tony Alamo ~
loves genital anatomy.

Meyran Kraus with:
Cheating on spouses horrifies the guys: ~
"She's going to cut your penis if she hears!"
---
The Anagrammy Awards
---