JULY 2012 NOMINATIONS
Anagrammy Awards > Nomination Archives > 2012
THE GENERAL CATEGORY
1st - Scott Gardner with:
A silver medal =
Rival leads me.

2nd - Adie Pena with:
The divorce lawyers ~
declare why it's over.

3rd - Rosie Perera with:
The equestrian competition =
Quite a competent horse in it.

Mike Mesterton-Gibbons with:
An old-fashioned marriage =
A man had ideas for one girl.

View with:
The youngster =
Short teen guy.

Richard Grantham with:
An autotuned singer =
One nauseating turd.

Rosie Perera with:
Latitudinarianism ~
is damn utilitarian.

Dharam Khalsa with:
Throwing caution to the wind =
Run to hog the 'Titanic' window!

Dharam Khalsa with:
Throwing caution to the wind ~
I went right into a Touchdown!

Dharam Khalsa with:
Throwing caution to the wind =
Cut the wood with no training.

Adie Pena with:
The divorce lawyers =
They're evil cowards!

Meyran Kraus with:
The domesticated messenger pigeon =
GPS isn't needed to memorise the cage.

Shane with:
A jack of all trades, master of none ~
lacks major effort and eats alone.

Shane with:
A damsel in distress =
Dead, slain mistress.

Rosie Perera with:
Erwin Schrödinger's cat thought experiment =
A grim, wrenching truth: expect she dies...or not?

Shane with:
Your secret is safe with me. =
He swears security of item.

Shane with:
He's inebriated =
Death is in beer!

Ellie Dent with:
Idealists denounced ~
delusions and deceit.

Dharam Khalsa with:
What do you get when you cross an elephant with a rhino? =
El-eph-i-no! (anyway, dangerous with the horn, so watch out!)

Tony Crafter with:
Maid regretting ~
getting married.

Scott Gardner with:
Girls loved ~
gold, silver.

Rosie Perera with:
Dilettantism =
It's dim talent.

Dharam Khalsa with:
Earth's gravitational pull =
As a prevailing truth to all.

Zoran Radisavlevic with:
The fast food restaurant =
Fat-ass, do not eat further!

Shane with:
They say money doesn't buy happiness =
Nonsense! It pays to buy hemp heydays!

Dharam Khalsa with:
Stereotypical =
I typecast role.

Shane with:
States indemnify ~
manifest destiny.

Blacklightmusicstudiosbirmingham with:
Gold Sediments =
Oldest Smidgen

Rosie Perera with:
Cyclical vomiting syndrome =
Mercy! Sadly moving to clinic.

Blacklightmusicstudiosbirmingham with:
Alphabetical order =
A calibrator helped

Christopher Sturdy with:
Antique typewriter =
i.e. a qwerty inputter

Christopher Sturdy with:
'You swallowed the dictionary at birth, man!' =
What he actually meant - 'wordy idiot is born.'

Ed Pegg Jr with:
Snow powder =
Power's down.

Rosie Perera with:
Trampoline parks =
Ample patron risk.

Dharam Khalsa with:
Stereotypical =
Role I typecast.

Shane with:
In gestures of defiance, ~
I deface fourteen signs!


---
THE ENTERTAINMENT CATEGORY
1st - Christopher Sturdy with:
'Smile, you're on Candid Camera' =
Comedy ruse and malice on air.

2nd - David Bourke with:
The "Fifty Shades" trilogy =
"God yes, Father! It's filthy!"

3rd - View with:
The 'Man of Steel' =
He's often metal.

Larry Brash with:
The Merchant of Venice, a play by William Shakespeare =
It nearly became: "Me, Shylock I have a paper... I want flesh!"

Scott Gardner with:
The Salon des Refusés. =
Nudes of lasses there.

Ed Pegg Jr with:
Coming out stories =
Tom Cruise: It's no go.

Dharam Khalsa with:
American Singer Roy Kelton Orbison =
Look, I insert a reborn "Mercy!" in a song.

David A. Green with:
The Chippendales Ultimate Girls Night Out Tour =
Up to eight males strip until unclothed, I gather.

Adie Pena with:
The Amazing Spider-Man [Three-D] =
The man did zip a sheer garment.

Scott Gardner with:
The music producer Simon Cowell =
Hope is rude comments will occur.

Scott Gardner with:
The television producer Simon Cowell =
Ridicule one complete loser in TV show.

Ellie Dent with:
Henri Matisse's 'Le Grand Nu, Large Nude' =
Learn it means an undressed, huge girl.

Mike Mesterton-Gibbons with:
Manet's Portrait of Mademoiselle Claus =
Damsel comes to a masterful oil painter.

Rosie Perera with:
"Composition in Red, Blue, and Yellow" =
Piet Mondrian? Swell! Cool! I'd buy one.

Mike Mesterton-Gibbons with:
Manet's Portrait of Mademoiselle Claus =
Art model still on a famous masterpiece.

Tony Crafter with:
Sir Tim Rice and Lord Andrew Lloyd Webber =
A lined word scribbler and melody writer.

Scott Gardner with:
The Adventures of Robin Hood =
To honor rude band of thieves.

Christopher Sturdy with:
The Four Feathers by A E W Mason =
Yen worth after shame of abuse.

nedesto with:
Christian Bale star of The Dark Knight Rises movie =
Brave retired Gotham hero kicks ass in last hit. FIN.

Ivan Andonov with:
Arctic Monkeys: ~
McCartney is O.K.!

Andrew with:
A lead hobbit =
Bilbo at head


---
THE TOPICAL CATEGORY
1st - Mike Mesterton-Gibbons with:
The Olympic Games in London =
Home city plans on gold mine.

2nd - Meyran Kraus with:
Fatalities in our theaters =
That is no feature. It is real.

3rd - Scott Gardner with:
The Olympic athletes =
They'll chase top time.

Mike Mesterton-Gibbons with:
Sprinters Usain Bolt and Yohan Blake ~
shoot by in a blink past a runner's lead.

Dharam Khalsa with:
The American journalist Anderson Cooper =
Conjecture on man's prior relations ahead.

Adie Pena with:
Anderson Cooper in "Three Hundred Sixty Degrees" =
No other CNN reporter exudes hidden gay desires.

Mike Mesterton-Gibbons with:
Anderson Cooper ~
on record as open.

nedesto with:
Independence Day in the USA is on the Fourth of July =
'House United' held hope in just defiance of tyranny.

Scott Gardner with:
The fireworks display =
Fiery show; it sparkled!

Meyran Kraus with:
The Olympic Games in London =
Not helping dismal economy?

Rosie Perera with:
The elusive Higgs boson, so-called "God particle" =
Gals have got hopes big collider could sense it.

Shane with:
Revolutionary war's slogan, "Don't tread on me!" =
Warrants: Remove London's regulation today!

Rosie Perera with:
Katie Holmes returns to Catholic Church =
Her call a shock to the rich nut Tom Cruise.

Rosie Perera with:
July 15 is National Ice Cream Day in Canada =
I can eat a cone as calmly in January. I did!

Andrew Brehaut with:
The Opening Ceremony of the London Olympics =
My plot: One of honored English incompetency!

Tony Crafter with:
The Duke of York is planning to abseil down the Shard =
Gosh! Unwise, I think. Odds on fat Andy'll break the rope!

View with:
The Syrian conflict =
Franticly, no ethics.

View with:
Damascus, the capital of Syria =
Chaps outface Assad military.

Dharam Khalsa with:
Romney's "retroactive retirement" from Bain Capital =
Fine, accept time travel, or arbitrary senior moment.

Christopher Sturdy with:
In a so-called "Broken Britain" ~
billionaire banks don't care!

View with:
Sage and Sylvester Stallone =
Sadly, gentle son leaves star.

Rosie Perera with:
America facing the worst drought since the 1950s =
Tragic. Mothers watched U.S. get .0159 inches of rain.

Rosie Perera with:
Three top Syrian officials killed by explosion =
I think foxy Assad is perceptibly lonelier. Fool!

Rosie Perera with:
Zimmerman says shooting was "God's plan" =
Mad man's thesis's amazingly wrong. Oops!

Rosie Perera with:
James Holmes, "Dark Knight Rises" shooter in Aurora, CO =
Horrors as armed sicko laughs, intones, "I am the Joker."

Meyran Kraus with:
Several Americans murdered in a Colorado theater =
Real horror scene rattled a drama movie's audience.

Ellie Dent with:
The Denver, Colorado 'Batman' shootings =
Cannot rate a movie throng's bloodshed.

Christopher Sturdy with:
Wiggins ~
wins gig.

Rosie Perera with:
Bradley Wiggins wins the Tour de France =
First Brit win showed a leggy endurance.

Ed Pegg Jr with:
Death Risk Rankings ‡
Dark Knight Rises: N/A

Paul Pan with:
Syrian President Bashar al-Assad =
Arabs trap leary hidden assassin.

Meyran Kraus with:
Christopher Nolan's feature 'The Dark Knight Rises' =
Fans like the script... and then a huge horror strikes.

Ellie Dent with:
The London Olympic Games =
Oh, simply come to England!


---
THE PEOPLES NAMES CATEGORY
1st - Dharam Khalsa with:
Actress Natalie Wood =
Dies on coastal water.

2nd - nedesto with:
Neuroticism ~
in Tom Cruise.

3rd - View with:
Dani Pedrosa =
Sped in a road.

Adie Pena with:
Death is in Mr. ~
Damien Hirst.

View with:
Oscar Pistorius ~
Is a sports curio.

Shane with:
The infamous Bonny and Clyde =
Handsomely financed bounty.

Meyran Kraus with:
Tom Cruise and Katie Holmes =
A cult dooms their keen aims.

David A. Green with:
Albertan forensic pathologist Dr. Anny Sauvageau =
Favouring an autopsy in lab coat, garters and heels

Dharam Khalsa with:
Simon Cowell =
I scowl, "Lemon!"

Tony Crafter with:
The Colorado killer James Holmes =
Cold, loathsome aimer. Hell's Joker.

Mike Mesterton-Gibbons with:
Sir Alexander Arnold Constantine Issigonis =
Innards on a Sixties car engine still on roads

Mike Mesterton-Gibbons with:
The astronaut Sally Ride =
Terra lady is on a shuttle

Dharam Khalsa with:
The Astronaut Sally Ride =
Hint: soul already at rest.

Ivan Andonov with:
Charlotte Gainsbourg =
A huge girl's born to act.

Rosie Perera with:
Mitt Romney, the would-be "private equity president" =
Inept, resolute, worth quite a bit, very empty minded.

Ellie Dent with:
Grigori Yefimovich Rasputin, Russia's Mad Monk =
I'm a visionary: I might spark rumors of seducing.

Rosie Perera with:
Emma Charlotte Duerre Watson =
Her true moment was "lead actor".

Mey K. with:
The US movie stars Thomas Cruise and Kate Holmes =
Makes me sad that true love such as this is no more!


---
THE OTHER NAMES CATEGORY
1st - View with:
Bethlehem Nativity =
Believe in that myth.

2nd - Adie Pena with:
Republicans and Democrats =
Cults spend and rob America!
3rd - Meyran Kraus
Two Thousand Twelve Olympics in London =
Only the top icons would win medals on TV.

Shane with:
U.S.A. Olympic team trials ~
impress automatically.

Shane with:
National Aeronautics and Space Administration =
Maintain alien contact, end disastrous paranoia.

Dharam Khalsa with:
The Higgs boson, often referred to as "God particle" =
Prolonged egghead effort bothers creationists!

Scott Gardner with:
The Revolutionary War =
How I overrule a tyrant.

Dharam Khalsa with:
The brown widow spider =
Horrid window web pest.

Ed Pegg Jr with:
Net "Higgs boson" game =
Something goes bang.

Dean Mayer with:
The athlete Oscar Pistorius =
A clothes tip: I hate trousers.

Shane with:
Schrodingers cat experiment =
Charted progress in mice next.

Adie Pena with:
The London Olympic Games =
English team do comply, no?

Rosie Perera with:
Crepitus, the Roman god of flatulence=
Call on me to produce finest huge fart.

Rosie Perera with:
Stargardt disease =
Great sad disaster.

Larry Brash with:
Transferring money using Western Union ~
or Nigerians running new fortune system.

Meyran Kraus with:
San Diego Comic-Con International =
A nerd's coming into a nice location.

Ivan Andonov with:
Adriatic coastline =
Dialects in Croatia

nedesto with:
The Olympics at Olympic Stadium in London, England =
Lining up to eat moldy chips... only in McDonalds, mate!

Tony Crafter with:
The Euro Lottery =
Roulette theory


---
THE MEDIUM LENGTH CATEGORY
1st - Tony Crafter with:
I answered a knock at the front door today and found a young Jehovah's Witness standing there with a bible.

I said, "Ah, come in!"
~
Once in, he said, "I'm Danny Letts Jr.!"

"What do you wanna chat about, Dan?" I asked.

"Gosh, I don't know," he said, "I never got this far before!"

2nd - Meyran Kraus with:
Women say:
"This boss, I fear he's genuinely against me. I can't work another year! What do you think?"

But they mean:
"Tell me I'm great."
=
Men say:
"That's OK, sweetheart."

But they mean:
"Um, look, I'm barely listening right now. There is a game on and your face is in the way."

3rd - Ellie Dent with:
"I use flake white, cadmium yellow, vermilion, deep madder, cobalt blue, emerald green, and that's all."
=
Monet: Wheat Field. Light illuminated all - a clear sky seemed bluer - and produced a memorable view.

Shane with:
The famous grimoire, The Necronomicon by H.P. Lovecraft =
Tale of truths overcome by horrific magic phenomenon.

Dharam Khalsa with:
A bus station is where the bus stops and parks.
A train station is where the train stops and parks.
=
Both true.

And what is on a business partner's desk?
Perhaps this is a pattern, as it's a work station!

nedesto with:
The copper was asking the old Scotsman Ruairidh McGavin, "Well now, can you describe the person that did this to you?" =
Our very bloodied Scotsman replied, "Och! So I can. That's what I was doing when the lousy prick started punching at me!"

Dharam Khalsa with:
"Imagination is more important than knowledge." - Albert Einstein =
Most remain between looming aspiration and literate thinking.

Christopher Sturdy with:
U.K. Calls in The Troops to London Olympics After G4S Shortfall
=
Hapless security firm oft don't go to plan. Shock 4 all? Stroll on!

Andrew Brehaut with:
The Scottish Tennis player Andy Murray lost at Wimbledon to Switzerland's Roger Federer again =
Watery eyed lower British citizen got trampled and learnt his lesson from great star on Sunday.

Andrew Brehaut with:
Adage: one percent inspiration and ninety nine percent perspiration =
Eyeing deep inner concentration and persistent pain in preparation.

View with:
Bulgarian president: Mossad did not warn attack was coming =
Madcap carnage was strong. Israel minds didn't know about it.

Adie Pena with:
TOP 10 HORNIEST COUNTRIES*

1. Greece
2. Brazil
3. Russia
4. China
5. Poland
6. Italy
7. Malaysia
8. Spain
9. Switzerland
10. Mexico
=
TOP 10 IN DIRTY SEX

1. Crudites
2. Banana
3. Salami
4. Ham
5. Oyster
6. Snail
7. Grapes/Cherries
8. Coconut Wine
9. Allioli
10. Pizza

David A. Green with:
The Kamikaze Memorial Society of the Philippines =
I penalize irksome pilot chaps if they make it home!

Rosie Perera with:
An eleven-year-old boy flies from England to Rome without a passport or boarding pass =
And we all feel safe in airports? Somebody might grab your person at a London stopover.

Larry Brash with:
You can lead a horticulture but you can't make her think =
Huh? But I may reckon a cute unruly harlot can't ideate, OK?

Maurice Goddard with:
Gor Blimey!! Really novel cheerful scene adorning UK capital's Tower Bridge ~
are five great Olympic Rings in the colours, blue, yellow, black, green, and red!

nedesto with:
I told a grasshopper, "We do have drinks named after you!" ~
"Odd" said the grasshopper, "You've a drink name of Walter?"

Scott Gardner with:
Republican presidential candidate Willard Mitt Romney of the USA =
Muddle in Britain; I'm declared national "Upper Class Twit of the Year."

Rosie Perera with:
Nations with perfect Olympics attendance: Greece, Australia, Great Britain and Switzerland
=
A bizarre fact: world athletes, glittering in awe, didn't miss a contest appearance in a century.

Meyran Kraus with:
A days-of-the-week calendar:

1. MON
2. TUE
3. WED
4. THU
5. FRI
6. SAT
7. SUN

=

1. Work-a-thon
2. Defeated
3. Midway
4. Enthuse
5. Casual
6. Fun
7. Rest.




---
THE ANAGRAMMY CHALLENGE CATEGORY
1st - Meyran Kraus with:
"God has seen your tears and heard your prayers. Do not grieve. The Little One will not die. Do not allow the doctors to bother him too much."
=
Oh, you have got to locate:
* Moldy yew
* Boar's leg (old or dried)
* Rodent urine (not sweat!)
* Iron Nitrate
* Horned Io Moths
That secret should help.

2nd - Christopher Sturdy with:
"God has seen your tears and heard your prayers. Do not grieve. The Little One will not die. Do not allow the doctors to bother him too much."
=
I read the runes, I rolled the dice -
Oh, dear woman, do not worry;
Note my prognosis as good health advice -
Let the tot out, thou'll not be sorry.

3rd - Ellie Dent with:
God has seen your tears and heard your prayers. Do not grieve. The Little One will not die. Do not allow the doctors to bother him too much.
=
Oh, my dear, do let that poor child rest to heal those humors. And then, one day soon, we two'll unite to be one. Your distracted lover, Grigori.

Mike Mesterton-Gibbons with:
Do not tell the horror Nicholas about torrid Thursday. Dodgy to enter here. Let me show you passionate love in hotel. Get a wider condom.

nedesto with:
Beloved... oh, how do you spell Csarina? ... Tsarina? The tortured ardor we tried to hold to together can hold me no longer. Hey, it's not you; it's me.

Rosie Perera with:
On the other hand, our dear Russia will totally meet her doom. And your tot, a corpse in the end. We'll both get covered in history, too. So... God????

Meyran Kraus with:
"Oh, yeah - do not try to destroy me, alright? I will overcome each threat out there... unless poisoned, shot, rolled in a rug and drowned, to boot!

Meyran Kraus with:
"Oh, and I've dreamt that one horror called 'The Boney M' would one day torture our good old society with their songs. Let's hope it's not real!"

Dharam Khalsa with:
Honey, at my cremation I'll oddly sit up unless the tendons are cut, so to avoid that horror there, go order one good tool with hewer blade!

Larry Brash with:
The mad loopy guru and the autocratic moody Tsarina who were red hot lovers; odd losers shot in the Rebellion, to die, only not together.

Dharam Khalsa with:
Honey, I truly trust the astrologer, and not the doctor (or attorney!), to do good. Besides, Lover, the hemophiliac does well when I am around.

Larry Brash with:
"Oh, dear Lord! We got to have a real hot time in the bed soon (no need to dress), and I do wish to roger your crotch later, you little nympho slut."

Dharam Khalsa with:
To all those who erroneously deduce you're my lover, I attend to a patient's health, not screw his mother behind a rotting door! Good Lord!!

Dharam Khalsa with:
Hello, Tsarina. You do need a stronger bed demeanor to aid your son to recovery. To hell with the good doctors, to hell with them! - Rasputin

Adie Pena with:
"Do stop giving our dearest child more arsenic! Heed today OR I'll relate to the whole world our trysts -- and then about the honeymoon, too!"

Dharam Khalsa with:
I turned some letters to code a hint. They are allegedly poisoning the tsarevich lad. Use bloodroot or wormwood on the tot. Oh, and hurry!

Larry Brash with:
"Ra.. Ra.. Rasputin"
Ooh! Hello! So, Boney M wrote this really odd, over-rated, idiotic song to the most hugely loathed, wretched tune to drone on.

View with:
Sending you 'wonder drug'. Will arrest haemophilia totally. Don't voodoo-doctor methods rather create bother?
See you in 'hot hotel nest'!

Tony Crafter with:
(Decodes here as:)

"Let me into your bedroom tonight at twelve; and then I'll do that hoodoo that I do so well!

G. Rasputin, Your Horny Sorcerer."

Shane with:
Be wary lord, he's doomed I lot, the revelation dawned on me today. There are no solutions to this plight. The horror! Do construct a eulogy!

Dharam Khalsa with:
The "new drug" your royal doctor ordered was merely aspirin, the anticoagulant to thin the blood...overdosed! Toss them into the loo hole!

Rosie Perera with:
Oh dear, I lied. He will vomit and sputter and breathe his last. Do go call the coroner, honey. So sorry to wound you, too. "♫ ♫ Tormented together... ♫ ♫"

Dharam Khalsa with:
Recovery will be
A slow, not a
Sudden or hurried
Process. Oh,
Until then, a motto:
Try today to add the
Ideal role - the
No-ego, soothing mother.

Rosie Perera with:
Oh, but do not carry the poor little toddler into Colorado movie theatres, where real gloomy nuts shoot guns nowadays! He'd die in there.

Paul Pan with:
"Don't worry about a thing, 'cause every little..."

"We interrupt the good old melody to hear Lenin drool 'I shot the Tsar'".

"Oh no!", comrades shooed.

Maurice Goddard with:
Trial deal is more:
Odds you'll win our Lotto here?
Pray choose hot numbers clear!
Do good thirty, three, and two,
Hot ten, eight, and seven too!!



---
THE LONG CATEGORY
1st - Tony Crafter with:
The board of a very large international company, feeling it was time for a streamlining exercise, hired a new Chief Executive Officer, John Whyatt. The new boss was hell-bent on ridding the company of all its slackers.

On a tour of the facilities, he noticed a young man lounging against a wall. The room was full of workers and Whyatt wanted them to realise that he meant business. So, he asked the man: "Hey, you; what is your salary, exactly?"

A little surprised, the young man replied warily: "My salary's about four hundred pounds a week. Why?"

The CEO said, "Just you wait right there, whippersnapper."

He swaggered away to his office, came back 4-5 minutes later, gave the man sixteen-hundred pounds in cash and said, "Here's four weeks' pay. Now get the hell out and never come back."

Feeling pretty pleased with himself, Whyatt looked around the room and snarled, "Right now; does anyone want to tell me just what that idle yob did here?"

From across the room, a voice replied, "Pizza delivery guy from Domino's."

=

A female CNN journalist heard about a devout old Jewish man who'd been commuting to the Western Wall to pray, twice a day, every day, for a long time and she decided she must seize the chance to check him out.

Next day, she went out to the Western Wall and there he was, shuffling slowly, using a walking-stick, up to the holy site.

She looked on as he prayed and after about 45 minutes, when he'd turned to leave, she approached him for an interview.

"Pardon me, sir, I'm Rebecca Stein from CNN. What's your name?

"Morris Feinstein," he replied.

"How long have you been coming out here to pray at the Western Wall?"

"Ages! About, um... sixty years."

"Sixty years! Gee, that is amazing! And what do you pray for?"

"Me? Heck, I pray for peace between the Christians, Jews and the Muslims.

"I pray for all the wars and all the hatred to cease.

"I pray for our children to grow up safely as responsible, dignified adults, and to love their fellow man."

"Okay, and how do you feel after doing this for sixty years?"

"Like I'm talking to a frigging wall."

2nd - Dharam Khalsa with:
Martin was on his death bed. His family called a Preacher to be with him in his final moments. As the Preacher stood by the bed, Martin's condition seemed to deteriorate, and Martin motioned for someone to pass him a pen and paper. The Preacher quickly received a pen and paper and lovingly handed it to Martin. But before he had a chance to read the note, Martin died. The Preacher, feeling that now wasn't the right time to read the note, put it into his jacket pocket.

It was at the funeral while speaking that the Preacher suddenly remembered the note. Reaching deep into his pocket the Preacher said "Do you know what? I suddenly remembered that right before Martin passed on he handed me a note. Knowing Martin, I'm sure it was something wonderful that we can all gain inspiration from." With that introduction, the Preacher pulled out the note and opened it, revealing the following: "Hey, you are standing on my oxygen tube!"
=
The Illinois man left his Chicago habitat in the winter to embark on a plane flight to sunny Miami. The man's wife Betty was on a business trip and had planned to meet him there the next morning.

When he reached the hotel, he decided to send her a quick update. But he missed an alphabet letter by accident when typing in her email address, making the note intended for Betty get directed to Edwina, an elderly Preacher's wife at a Manhattan apartment, whose husband had died only the day before.

When the grieving widow checked her email, she took one look at the computer monitor, let out a pained scream, and dropped to the floor in a dead faint. At the inappropriate thump sound, the Preacher's relation raced into the room, gasping at the email that remained up on the monitor screen: "My Dearest Wife, Just got checked in. Everything prepared in the anticipation of your arrival tomorrow morning. P.S. Sure is hot down here!"

3rd - nedesto with:
This sloth named David is creeping through the forest one day when this gang of snails approaches him, beating him up very severely.

The sloth is left at the bottom of a tree and is beaten and bleeding with several cuts and bruises all over.

It's several hours later and the sloth somehow gathers up enough strength to go limping into the local police station. He stumbles into the sergeant's office.

"My word! Whatever in the world happened to you?!" says the officer.

"A bunch of really mean snails beat me up," David replies sobbing.

"Well, can you describe who did this to you ?" the sergeant asks.

"I don't know," the sloth says. "It all happened so fast."

=

An old vampire bat dripping with blood flies home to get some rest. The other bats smell the succulent blood dripping and ask where he got it.

"Let me sleep, darn it!", he tells them, but nevertheless they annoyingly insist until he gives in.

"Oh, fine then... follow me" he says cursing, and goes off with the other vampire bats flapping behind him in a cloud.

Out of the cave's passageway he leads them, swooping down through the valley and far across a river and into a woods, finally coasting to a stop.

"This is the place. Now, do you see that tree branch over there?" he asks.

"Yes!" the bats all shout in a restless furor.

"Good" says the bat, "Because I sure didn't!"

naturegirl with:
In 1944 Max Planck, the father of quantum physics, gave a revolutionary speech where he said that "matter as such does not exist", but rather an energy field, a quantum space of matter and that "reality" is moulded and modified by the observer's consciousness

=

Eight huntsmen carved a square piece of lumber. A board tattoo, fundamentally physical. Yet it's nonexistent, said the famed mid-century physicist whose name itself reconstructs said board. A thought: quark, herd, a mauve feather, ox, rasp...have oneness.

Rosie Perera with:
"You know, it's hard to know just how well it will turn out. There are a few things that were disconcerting, the stories about the private security firm not having enough people, supposed strike of the immigration and customs officials, that obviously is not something which is encouraging. Because there are three parts that makes Games successful. Number one, of course, are the athletes. That's what overwhelmingly the Games are about. Number two are the volunteers. And they'll have great volunteers here. But number three are the people of the country. Do they come together and celebrate the Olympic moment? And that's something which we only find out once the Games actually begin."

=

(We retweet actual speech.) Mitt Romney ticks off the Brits in a stunning move of idiocy. The bugger thinks his tumultuous leadership of the SLC Utah Olympics gives him the right to criticise how London is handling things. What a moron, worse than Bush. We the people weep at the outcome. If he becomes President, Cameron has every right to not invite him back to England after that insult, an uncultured jab to a great, glamorous country. The message of the day was that wherever Romney goes, whomever he sees, he will be an untrustworthy perturber. Better not elect the ungenteel maneuverer, a glossy toothsome teetotaler, a gauche bureaucrat who has the face (um, personality) of a Ken doll.


Dharam Khalsa with:
Hope is the thing with feathers
That perches in the soul,
And sings the tune without the words,
And never stops at all.
(by Emily Dickinson)

=

Ah! If this poet was a tiny light on the autistic spectrum,
then we should thank the heavens she so intently wrote her
splendid bird song!

Christopher Sturdy with:
Philosopher's Stone
Chamber of Secrets
Prisoner of Azkaban
Goblet of Fire
Order of The Phoenix
Half Blood Prince
Deathly Hallows

=

Harry Potter:

Spell on long life
Bash school snake
Off horrible foes
Be triwizard champ
Defence expert
Harsh potions
Fable hoodoo

Rosie Perera with:
"I can tell you that I also feel, as Americans do across our nation, a special relationship with the nation of Great Britain and with the people here."

=

Ah, Romney blows it again. He tries to flaunt it (peace, the fraternal alliance); is heard as a pathetic, preposterous, hollow, asinine idiot. On to China!

Adie Pena with:
TOP TEN WEDDING FLOWERS
1. Rose
2. Tulip
3. Calla Lily
4. Lily of the Valley
5. Hydrangeas
6. Peony
7. Ranunculus
8. Stephanotis
9. Sweet Peas
10. Gardenia

=

TOP TEN EASY WEDDING GIFTS FOR ANY RANDY COUPLE
1. Pillows
2. Sheets
3. Leather
4. Lace
5. Lavatory
6. Luau Plans
7. Ethanol
8. Wine
9. Energy Pills
10. IUDs

Shane with:
Two of the scruffiest slobs ever, Zeke and Steve, were in the park flipping in a dictionary when they both started to laugh. They teased rudely and started to make a disciplinable scene. Beside them, a colorless old woman was upset at the men. Afflicted, she approached them in a hobble. "Come now," she gummed "just what do you two queer imbeciles think is funny?". Steve, only as dimmish as ever, pointed to a word on the page. The feeble woman read it and was confused. "Esoteric?" she asked, "In any case, what's that and how's it funny?". Zeke replied, "Wench, it's an inside joke and you wouldn't understand!"

=

A desperate man ran into the police station begging fervently for help. Officer Sade in sympathy talked him down and asked him the usual questions. "Please calm down and just tell me what happened." Sade said. "Yes, well I own the restaurant down the road, and I've been robbed!" the chef grunted. "A sad issue!" Sade continued "Ok sir, what was stolen?" "All my pastries officer!" he winced "But no money!" Puzzled, Sade asked "No way, pastries? Wow! Anyway, could you describe the thief to me?" "No," the chef vented "no I don't remember his face, but I'd know this, when it comes to thieves this one just takes the cake!"


---
THE SPECIAL CATEGORY
1st - nedesto with: [This crossword includes two revolutionary scientific theories and the scientist's name highlighted in blue. The letters in the completed 17x17 crossword grid are an anagram of both the 17 "ACROSS" and 17 "DOWN" clues which are anagrams of each other.

As an additional hint, the solution of the three clues highlighted in red comprise an anagram of the scientific effect for which the scientist won the Nobel Prize. (most people think it was for 19-Across or 5-Down)]
ACROSS
1. Stole
4. Loafers (4,7)
9. Duller
10. Name (see eleven Down)
13. Privy internal figure
14. Prior (2,7)
15. Input/Output
16. Changed character
19. I unify space/time (7,10)
21. ___ fill all actual labor there (3-11)
23. Ready
25. Sharper point (Latin) (1,8)
26. A nearby conspicuous star
27. Trip type (3-3)
28. Titian need (3,5)
30. Any ion in solution
31. Receive

DOWN
1. Oral copulation of her labia
2. Pour
3. I roar!
4. Universe's painfully swollen epoch?
5. Mass/energy parity (7,10)
6. Afternoon
7. Prattle
8. Bristles
11. An epitaph: An eccentric intellect
12. I have made perfect tense (4,10)
17. Continuously (3,2,3,3)
18. Individually (3,2,3)
20. Erupting
22. Endure
24. Attire
25. Unitary
29. ___ I dare?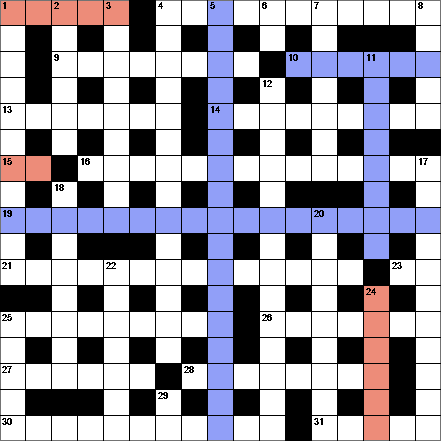 [ The Nobel Prize in Physics 1921 was awarded to Albert Einstein "for his services to Theoretical Physics, and especially for his discovery of the law of the photoelectric effect."] CREPT+IO+CLOTHE = PHOTOELECTRIC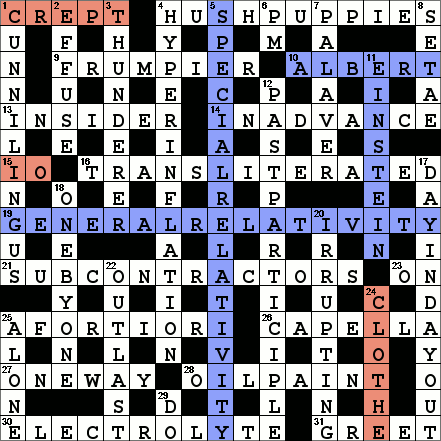 2nd - Meyran Kraus with:
[Shakespeare's star-themed sonnet anagrammed into a poetic model of the solar system, which is also illustruated.]
Sonnet Number Fourteen
Written by William Shakespeare

Not from the stars do I my judgement pluck;
And yet methinks I have Astronomy,
But not to tell of good or evil luck,
Of plagues, of dearths, or seasons' quality;
Nor can I fortune to brief minutes tell,
Pointing to each his thunder, rain and wind,
Or say with princes if it shall go well
By oft predict that I in heaven find:
But from thine eyes my knowledge I derive,
And, constant stars, in them I read such art
As truth and beauty shall together thrive,
If from thyself, to store thou wouldst convert;
Or else of thee this I prognosticate:
Thy end is truth's and beauty's doom and date.
SUN

That fervent orb,
It lit the day -
It is the source
Of morning rays.

MERCURY

The messenger
That tailed the sun
Obeyed her call -
Her will be done.

VENUS

That cuter nymph
Of lust and love
Intends to flirt
And wink above.

EARTH

A shoddy rock
And home to Man -
The cryptic twist
To God's old plan.

MARS

The crimson star
Unfit for life,
For it will be
A risky strife.

JUPITER

The most divine
Of Roman Lords,
It weighs a lot -
Too large for words.

SATURN

The Lord of Time,
Of Then and Soon,
It is confined
By many moons.

URANUS

It ruled the sky
As Gaia's son,
Yet now it is
The butt of puns.

NEPTUNE

The planet dyed
A quiet blue;
The Ocean King
Gave it that hue.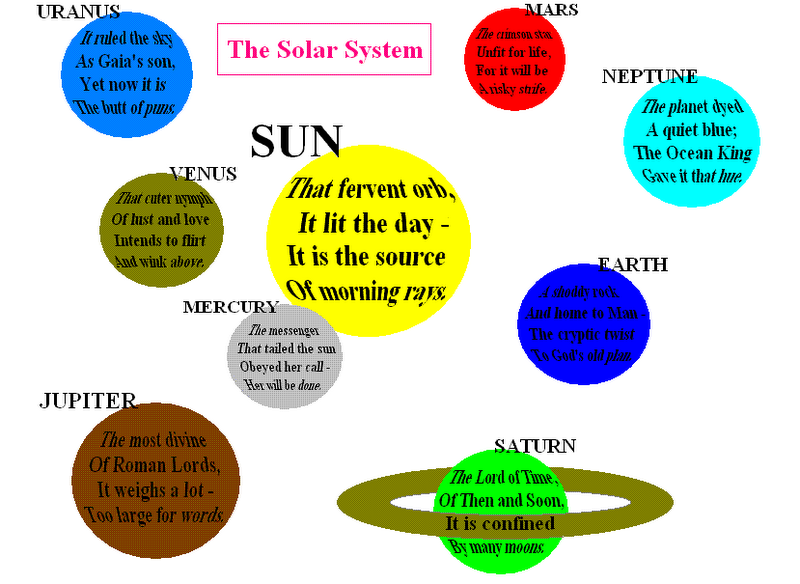 3rd - Tony Crafter with:
Never trust a dwarf who says your wife's hair smells lovely!

*

Irish historians have discovered what they believe could be the headstone of the oldest man ever to have lived. He was 163 and called Miles from Dublin.

*

I thought my new girlfriend might be the one, but after looking through her knicker-drawer and finding a nurse's outfit, a French maid's outfit and a policewoman's uniform, I have decided that she's not. She obviously can't hold a job down!

*

What is the similarity between your first car and anal sex?
You don't really want it, but your uncle insists.

*

I have just bought some of that 007 Viagra. It makes you want to roger more!

*

An elderly man is stopped by the police around 2 a.m. and is asked where he is going at this time of night. The man replies, "I am on my way to a lecture about alcohol abuse and the effects it has on the human body, as well as smoking and stopping out late." The cop replies, "Oh yeah; and who'd be giving such a lecture at this time of night?" The man replies, "That would be my wife"

*

I was in bed with a near-sighted girl last night and she told me I had the biggest penis she'd ever had her hands on.
I said, 'You're pulling my leg.'

*

I have just had a letter back from Screwfix.
They said they regretted to inform me that they are not actually a dating agency.

*

Society Sally said to the good-looking stranger, "Hey, you sure do look like my fifth husband."
The stranger was somewhat taken aback. "Oh? How many times have you been married?" he asked.
"Four," she replied.

*

Two blondes on a park bench. One says, "Gee, which do you think is farther away, the moon or Florida?"
"Hellooo," replies the other, "can you see Florida?"

*

A Professor at the University of Sydney was giving a lecture on 'Involuntary Muscle Contraction' to his first year medical students.
Realising this was not perhaps the most appealing subject, the professor decided to lighten the mood slightly.
He pointed to a young woman in the front row and said, 'Do you know what your arsehole is doing while you are having an orgasm?'
She replied, 'Probably out golfing with his mates.'

*
~
I went to bed with 2 frisky Thai girls last night. It was like winning in the lottery! We had 6 matching balls…

*

A young guy saw a girl in a nightclub, and thought she was the most fragrantly beautiful female he'd ever seen, so he went up to her and said, "I may look fairly ordinary, but my father's a multi-millionaire and when he dies I'll inherit everything."
A month later she became his step-mother.

*

A blonde goes off for a walk. She comes to a river and sees another blonde on the opposite bank. 'Hi!' she calls, 'How can I get to the other side?'
The second blonde looks up the river then down the river and yells back, 'You ARE on the other side.'

*

A blonde arrives at a gas station pushing her Jaguar and tells the mechanic it stalled. After working on it for 10 minutes, he gets it running.
She says, 'What's the story?'
He replies, 'Just crap in the carburettor'
'Huh?' she says, 'How often do I have to do that?'

*

Old Chinese proverb: Man who confuse laxative with Viagra crap in bed!

*

A state police officer stops a blonde for speeding and asks her very nicely if he could see her license.
'I wish you guys would get your frigging act together,' she huffs; 'just last night you took away my license and today you expect me to show it to you!'

*

The Grim Reaper came for me last night and I beat him off with a vacuum cleaner.
Talk about Dyson with death!

*

Dear Lord,
I pray for Wisdom to understand my man; for Love to forgive him and for Patience to tolerate his moods. Because, Lord, if I pray for Strength, I'll beat the irritating bastard to death.
AMEN

*

A couple are lying in bed. The man says,
'I'm gonna make you the happiest woman in the world.'
The woman replies, 'I'll miss you...'

*

One day, Val's husband decided to have a go at washing his sweat-shirt. Just 30 seconds after going into the laundry room, he yelled to his wife, 'Hey Val, what setting do I use on this washing machine?'
'It depends,' she replied. 'What does it say on your shirt?'
He yelled back, ' University of Oklahoma.'

*

MAN: 'God, why did you make woman so beautiful?'
GOD: 'So you'd love her.'
MAN: 'But why did you make her so dumb?'
GOD: 'So she'd love you.'

Rosie Perera with:
Batman: The Dark Knight Rises ~
Embarks that night near kids.

Tony Crafter with:
EL PUSO

Out in Barns Green down in Horsham, West Sussex,
I had a duel with one ornery gent,
He was the cruel, one 'n' only El Puso
I came intent on a fight to the end.

There in an inn full of hillbilly yokels,
The ale looked like gnat's pee 'n' tasted the same
I arrived early to check on the venue,
Armed, set to kill, in this 'High Noon' endgame.

All of a sudden the door opened wide,
Someone came in from the night,
It was El Puso
Arriving with gusto,
The glint in his eye
Was a knife in my heart.

So I rose from my

Chair and I challenged him: "Show what you've got man,"
Down flew his hand, moving fast as a fox,
Before I knew it he delved in his bum-bag,
Drew out, like lighting... an old Scrabble box.

Just for one moment the whole room fell silent,
All I could hear was the beat of my heart,
Many words flew through my mind as I stood there,
I chose only two and I said them: "Let's start."

Before I knew it a table was cleared,
We both got chairs and sat down,
From my bag I took
My old Scrabble Wordbook,
He snarled, "Best of one."
My reply was a frown.

Then we each chose our

Tiles from the tile-bag, set them on tile-racks,
I looked at them once and got set to attack.

He tossed a coin in the air, and I cried "Tails!"
It came down heads and he sniggered, "First blood,"
He laid his tiles and he made 'FOXED' (for forty)
All I could make with my letters was 'MUD',

As we continued the game got more mean,
Puso played out of his skin,
I was still laggin' 'n'
My brain was flaggin'
While he laid words such as
'FIZGIG' and 'DJINN'.

Then at last I

Withdrew from the tile-bag the letter I longed for,
(Suffice to say, it's the one after 'P')
This only briefly revived my ill-fortune,
I also pulled out five 'I's and a 'V'.

A crowd had gathered, I heard someone giggling,
Puso was now fifty-five (55) points in front,
I notched sixty-four off a great double-triple,
I took the lead, and I heard Puso grunt.

He tagged an 'S' onto 'CIVIC' and made
'CIVICS' to score thirty-two,
Though I kept smilin'
Inside I was rilin',
I now held four 'I's,
Two 'O's and a 'U'.

So in anger I

Voiced my annoyance, changed my f***ing letters,
Effing 'n' blinding so uncivilly,
Then, all in a moment of insanity,
Next thing, he'd finished and beat me by three!

From out of nowhere El Puso has won it,
Funny how fortune can dive in that way
I said, "You've got me, and I have to pay," he said
"Buy me a lager," so I said,
"Okay."

=

EL PUSO II

Down in the West Kentish village of Knockholt,
I left my house and I went to the gate,
Threw on my poncho, adjusted my Stetson,
Lit a cheroot then set off to my fate.

The mist in the field hung like some ghostly blanket,
As I climbed a stile and walked into the night.
The village's inn was my end destination,
(Where Stella Artois is four-fifty a pint).

There I'd confront my foe from Barns Green,
The one called 'El Puso' (the swine),
Ruthless 'n' dashin'
A Scrabble assassin,
I'd lured him to Knockholt
Revenge will be mine!

As I came to

The end of the meadow I looked through a bush, to
The village inn car park on the other side,
Two minutes later I heard a low hum, as
Puso arrived in his Sinclair C5.

After he'd tied the car onto a gatepost,
He jumped out and he swaggered up to the inn,
Under his arm was his worn Scrabble box, so
I waited until I saw him go right in.

I whistled my way to the front of the inn,
(The 'Fistful Of Dollars' film theme),
For long I had planned
An entrance so grand,
So I kicked the door wide and
Stood there... looking mean.

As I chewed on

My cheroot, I heard someone growl, "Oi, you old twat!
"No smoking in here, and remove the gross hat!"

After I'd done as the voice had instructed,
I looked around for my sworn enemy,
Puso sat, nursing a nice mug of Stella,
He said, "Loving the outfit - you ready, TC?"

I got a Stella and off we did go,
Laying our tiles as before,
But he did not know
That under my poncho,
Was concealed a rogue 'X' to augment my score.

Then halfway in

The game I was trailing by fifty-five points but
I didn't care, I'd an ace up my sleeve;
I still held an 'X' hiding under my poncho,
If laid at a good time a win I'd achieve.

At last my chance came! I gratefully grabbed it,
Grinning, guffawing, at my enemy,
Laying my tiles one by one on the board...
I made 'XEROXING' to score massively!

I gave a growl and I bellowed, "Well, now!
"Er... one-fifty-one, what a blast!
"A win I have snaffled!"
El Puso looked baffled,
I swallowed my booze and I said, "Kiss my arse!"

"E... R... O. I...? Hey!

Hold on!" he bellowed, "there's two f***ing 'X's!"
Then, growling, he grabbed a big handful of tiles,
Venting his fury, he slung them at me,
I got hit on my nose with an 'O' 'n' two 'V's.

I heard the barman cry, "F*** off you asses!"
As Puso and I were thrown onto the drive;
I said, "I'm off now while I'm still alive,"
He said, "Ok" and left in his Sinclair C5.

nedesto with:
Crossword =
crossword

Dharam Khalsa with:
• A GOOD CHRISTIAN: You have two ordinary cows. You keep one cow and donate the other one to a poor neighbor.

• A SOCIALIST: You have two cows. The government takes one and gives it to your poor neighbor.

• A REPUBLICAN: You own two cows. Your "slovenly" neighbor on welfare does not own one. You say, "Who cares?"

• AN AMERICAN DEMOCRAT: You have two cows. Your poor neighbor owns none. You feel guilty and concerned over his inconvenience. You vote people into office who tax your cows, forcing you to sell one. The people you voted for take the money, buy a cow at four times the market price, and give that cow to aid your neighbor. Hurrah, now you can rejoice!

• A COMMUNIST: You have two cows. Government men seize both of them and provide you with rancid milk.

• A FASCIST: You own two cows. In a government crackdown, both are seized. You purchase the milk they produce.

• AN AMERICAN DEMOCRAT (VARIATION) You have two cows. The government can tax you to the point you soon have to sell the cows to support a poor unknown man in a faraway country who has only one cow, which was provided to him by America.

• A CAPITALIST, AMERICAN STYLE: You have two cows. You sell one, purchase a good bull, and are a success. You incorporate your herd.

• A BUREAUCRAT, AMERICAN STYLE: You have two cows. The government takes both, shoots one (euthanasia), milks the other, pays you for the milk, then pours it down the drain.
~
• AMERICAN CORPORATION: You obtain two cows. You sell one, and force the other to produce the milk of five cows. You can't believe it when the milk cow drops dead.

• FRENCH CORPORATION: You have two cows. You go on strike because you want many more cows.

• JAPANESE CORPORATION: You have two cows. You redesign them so they're one-tenth the size of ordinary milk cows and produce twenty times as much milk.

• GERMAN CORPORATION: You have two cows. How are you going to reengineer them so they live for one hundred years, eat once a month, and milk themselves?

• ITALIAN CORPORATION: You have two cows, but you wish you knew where they have gone. You go on break.

• RUSSIAN CORPORATION: You have two cows. You count them and learn you have five cows. You count them again and learn you have ten cows. You count them again and learn you have twelve cows. Vexed, you stop and go open another bottle of vodka.

• MEXICAN CORPORATION: You once had two cows, but are unable to locate them. You go take a siesta.

• SWISS CORPORATION: You have been presented with five thousand cows, none of which belong to you. You charge for storing them.

• BRAZILIAN CORPORATION: You have two cows. You slyly enter into partnership with a big American corporation. Soon you have over a thousand smelly cows, and the American corporation has declared bankruptcy.

• INDIAN CORPORATION: You have two cows. You worship them.

Adie Pena with:
Here's the message that's coming from Mitten:
Barack has been mean to Great Britain—
He has dissed Winston's bust,
For which Romney has lust,
And Obama ain't Anglo-Sax smitten.
=
A magnate transmitting things in London
Began to crack as the day wore on.
He's a barbarian, he's scum;
As he exhibits he's assdumb
With these misstatements left from a moron!


---
THE RUDE CATEGORY
1st - Adie Pena with:
An arse licker ~
can like rears.

2nd - Andrew Brehaut with:
A fungal infection =
Cunt offline again!

3rd -nedesto with:
Explosiveness =
Penis loves sex!

Meyran Kraus with:
Saving yourself for marriage =
A virgin fear of orgasm, surely!

Christopher Sturdy with:
Forbidden desires =
Does friend's bride.

View with:
The boy's foreskin removal =
For every man; his best look!

Tony Crafter with:
Lady Boys of Bangkok =
Gay, sad, knob-yob folk

Shane with:
Mounting a woman =
Now, into a Magnum!

Paul Pan with:
Hooters Girls =
Shorts-ogler, I.

Rick Rothstein with:
She tried anal intercourse =
Adult erection's in her arse.

View with:
I found my perfect girl =
Glorify firm, deep cunt!


---
The Anagrammy Awards
---