Nominations by Author
Please make your final selections (one per category)
and send them by the 2nd of the month
to Chris 'HSP' Sturdy: chris.sturdy at lineone dot net ('at' = '@', 'dot' = '.')
Author names are taken directly from original posts.
If your anagrams are listed under more than one name,
let Larry know which form of your name you prefer.
---
Adie Pena
Next author

GENERAL:


A substitute for meat =
Tofu. Same attributes.



There's no accounting for taste =
Escargot? French eat it. No, not us!



ENTERTAINMENT:


Andy Warhol's "Thirty Two Campbell's Soup Cans" =
One tasty lunch was world-class pop art by him.



TIME's Persons of the Year: The Silence Breakers =
These hero(in)es speak of many terrible secrets!



TOPICAL:


Islamophobic U.S. president =
Trump (based on his policies).



PEOPLES NAMES:


The FBI Director James Comey ~
Ejected from my chair. So be it.



Damn it! Hundreds of people trust ~
President of the U.S. Donald Trump!



Sir Paul McCartney of The Beatles =
Rich man. Real poet. Lefty bass. Cute.



OTHER NAMES:


International Committee of the Red Cross =
Treatment comes for the soldier in action.



The Trump White House =
Tweeter? Oh, shut him up!



MEDIUM LENGTH:


Our last three VPs
1. Dick Cheney
2. Joe Biden
3. Mike Pence
=
1. Empty Republican joke
2. Honest; decisive
3. Redneck, eh?



George Harrison's Top Three Beatles Songs
1. While My Guitar Gently Weeps
2. Something
3. Here Comes The Sun
=
1. Huge hit. (Yes, E. Clapton on guitar!)
2. She's my gal; we're together
3. Winter's gone, Spring's here -- see them blossom!



Harvey: A strong tropical hurricane remembered for destroying Houston, Texas, resulting in several casualties.
=
Harvey: One old pervert is in great trouble; terrorised young nice stars accusing him later of sexual harassment. 



ANAGRAMMY CHALLENGE:


"Whatever you do, do it with all your might. Work at it, early and late, in season and out of season, not leaving a stone unturned, and never deferring for a single hour that which can be done just as well now." (P. T. Barnum) 
=
"Whatever you do, do it with bravado. Use colorful language, historical nonsense. Liven an unseen agenda with half truths. Diss or threaten known women, arrogantly fire anyone, and tweet about it." (Donald J. Trump)


Christopher Sturdy
Next author

GENERAL:


An omnivore gets a really balanced diet =
I consider any vegetable and/or all meat.



PEOPLES NAMES:


White supremacist politician, David Ernest Duke =
A nutcase had idiotic views like President Trump.



SPECIAL:


Le Jardin



RUDE:


A woman flashing her titties =
Oh! I learnt that image is 'NSFW' :-(



You had best prepare yourself for rather a shock =
H.H. The Pope - a rosy-arsed altar boy fucker for sure.


David Bourke
Next author

ENTERTAINMENT:


The singer Thomas Earl Petty =
Simply the greatest on Earth.



PEOPLES NAMES:


Camilla Rosemary Shand ~
I'm a lady on Charles's arm.



ANAGRAMMY CHALLENGE:


"That's the thing about girls. Every time they do something pretty, even if they're not much to look at, or even if they're sort of stupid, you fall in love with them, and then you never know where the hell you are. Girls. Jesus Christ. They can drive you crazy. They really can."
- J.D. Salinger, 'The Catcher in the Rye'
=
To generalize highly, the majority of the men worldwide snore, they leave the toilet seat up, they can't ever multitask (no chance!), they enjoy clutter, they can fetch clothes in a shop...through in roughly five minutes (why hurry!), they tend to forget anniversaries. Still, they're very sorry! - David Bourke


Dean Mayer
Next author

ENTERTAINMENT:


Irish singer Sinead O'Connor =
No hair in recording session.


Dharam Khalsa
Next author

ENTERTAINMENT:


George Orwell's 'Nineteen Eighty-Four' =
Feel the towering ruler's ongoing eye.



George Orwell's dystopian novel "Animal Farm" =
Allegory of Stalin, men, pigs, love, war, and more.



OTHER NAMES:


The Academy Award for Best Picture =
Corrected, but they made a fair swap.



ANAGRAMMY CHALLENGE:


'You should make a point of trying everything once except incest and Morris dancing. - Sir Arnold Bax
=
I had intended to try: ballooning skydiving a French romance group sex My excuse? Procrastination!



"The most painful thing about mathematics is how far away you are from being able to use it after you have learned it." - James Newman
=
Math is
About
The wanna-be
Highway
Engineer's
Major
Aim to evaluate;
To me,
It is a fib - that
Compulsory way to
Suffer!
- Alfred E. Neuman



"Journalism is printing what someone else does not want printed. Everything else is public relations." – George Orwell 
=
"I'm a one-genre novelist,
"
Sighs one angry pessimist.
"I don't write well;
The genre won't sell-- 
I could be a proper journalist!"



LONG:


The world's leading expert on European wasps goes into the record store. He asks the assistant, "I'm wondering, do you have the new recording 'European Vespidae Acoustics Volume Two'? I believe it was going to be released this week."
"It certainly has," replies the assistant. "Would you like to listen before you buy it?"
"That would be wonderful," says the expert, and puts on a pair of headphones.
He listens for a few moments and says to the assistant, "I'm terribly sorry, but I am the world's leading expert on European wasps and this is not accurate at all. I don't recognize any of those sounds. Would you please verify that this recording you have is the correct one?"
The assistant checks the turntable, and replies that it is indeed 'European Vespidae Acoustics Volume Two'. The assistant apologizes and lifts the needle onto the next track.
Again the man listens for a few moments and then says to the assistant, "No, this just can't be right! I've been an expert in this field for forty-three years and I still don't recognize any of these sounds."
~
The assistant on duty apologizes again, lifts and sets the needle onto the next consecutive track of the vinyl record.
The insect expert throws off the headphones as soon as it starts playing, is intoxicated with rage, and notes, "This is outrageous false advertising! I am the world's leading scientific expert on European wasps, yet no European wasp has ever made a sound like the noise on that record!"
The attentive manager of the shop overhears the scuffle and walks over. "Just what seems to be the problem, sir?"
The intellectual answers, "This is an absolute outrage! It's totally unsatisfactory! You do see, I am the world's leading scientific expert on European wasps! Nobody knows more about the insects that I have studied than I do, and there is NO WAY IN HELL the distorted fuzzy noises on this record were made by European wasps!"
The courteous focused manager looks down, finds the title, diagnoses the trouble instantly, and states, "I'm terribly sorry, sir. It appears we've been unintentionally playing you the bee side."


Ellie Dent
Next author

GENERAL:


I'm not in love =
No, I'm violent!



Weather in winter =
New white terrain.



ENTERTAINMENT:


'Self Portrait With A Beret' by Claude Oscar Monet =
Celebrity artist puts on comfortable headwear.



Raphael: The Sistine Madonna =
And he is a phenomenal artist.



William Shakespeare's Romeo and Juliet =
All like his enamored pair...just awesome!



TOPICAL:


Violent racist hell ~
in Charlottesville.



Meghan and Prince =
Champagne dinner!



PEOPLES NAMES:


President Robert Gabriel Mugabe =
Aged bumbling reprobate retires.



OTHER NAMES:


Manchester Arena =
Men can hear tears...



Passchendaele, Belgium =
Humble, seeing sad place.



MEDIUM LENGTH:


A student sees his pal Alan on a new bike.
'Where d'you get that?'
'I was off to a shop, when this photogenic,
delightful, curvy chick
~
pulls up, gets off a new, a high-end bike,
strips, then says:
'Hi! Take what you want.'
'Nice. A good choice. Her clothes
wouldn't have fit.'



Win, a blonde, goes ice fishing. She takes her stool onto the ice and
cuts a big hole.
A voice says:
'THERE ARE NO FISH UNDER THE ICE.'
=
Baffled, as she cuts an ice hole, she soon gets to hear the voice again. 
'God, er... is that you?' she cries.
'NO, I OWN THE BLEEDIN' ICE RINK!'



You are shut in this secluded, windowless, unlovely hut with the following room-mates: a tiger, a cobra and a lawyer.
~
You've a single gun, with two bullets. So what should you do? Remain calm, raise rifle and shoot the darn lawyer. Twice.



ANAGRAMMY CHALLENGE:


"There is a theory which states that if ever anyone discovers exactly what the Universe is for and why it is here, it will instantly disappear and be replaced by something even more bizarre and inexplicable."
=
'The answer's Forty Two!' Max cried. He was exceptional, a whiz, invariably right in class. Yet very restive. There seemed to be hatred present behind his brilliance. A vicious trait. Then finally, one day, he snapped...



LONG:


HOW TO WASH THE CAT
Firstly, clean the toilet. Add the required amount of suitable shampoo to the toilet water, and have both lids lifted. Obtain the cat and soothe him while you carry him carefully towards the bathroom.
In one smooth movement, put the cat into the toilet and then close both the lids (and you may need to stand on the lid yourself so that he cannot escape).
CAUTION!!!
Do not get any part of your body too close to the edge, as his paws will be reaching out for any grip they can find.
~
Flush the toilet twice.
Have someone open the door to the outside, and ensure that there is nobody between the toilet and the outside door.
Stand as far behind the toilet as you comfortably can, and lift both lids equally in a prompt action. Abracadabra! Your changed tomcat, Tommy, now lovely and clean, will shoot out of that toilet and happily hotfoot it outside; when he can straightaway dry himself in the open ... where too, the cat might catch some of that hot sun.
Yours sincerely
THE DOG.


Jesse Frankovich
Next author

OTHER NAMES:


Reynolds Wrap Aluminum Foil =
Wall up your mind from aliens!



RUDE:


The personal massager =
Pleasant orgasms here.


John Ramos
Next author

OTHER NAMES:


Hurricane Harvey =
Heavy air churner.


Jon Gearhart
Next author

OTHER NAMES:


The Central Bank of Nigeria =
Bring on a fake chain letter.


Josiah Winslow
Next author

TOPICAL:


The United States of America ~
seems to hide a "fact" ain't true.



ANAGRAMMY CHALLENGE:


American President Theodore Roosevelt wrote: "Speak softly and carry a big stick. You will go far."
=
Donald Trump tweets: "I yell bigly, raise or provoke a great chaos, and cry 'fake news' too! So terrific!"


Julian Lofts
Next author

TOPICAL:


The infant Charlie Gard dies =
Life is hard, then a tragic end.



OTHER NAMES:


Justice Department =
Eject Trump instead.


Meyran Kraus
Next author

ENTERTAINMENT:


The Nostradamus Prophecies =
He predicts our path as omens.



TOPICAL:


The Donald as our new president =
Odds are the planet's now ruined.



PEOPLES NAMES:


David Laurence Brash =
Led an absurd archive.



ANAGRAMMY CHALLENGE:


"Le grand criard sans honte audacieux

Sera esleu gouuerneur de l'armee:

La hardiesse de son contenteur

Le pont rompu, cite de pur pasmee"

=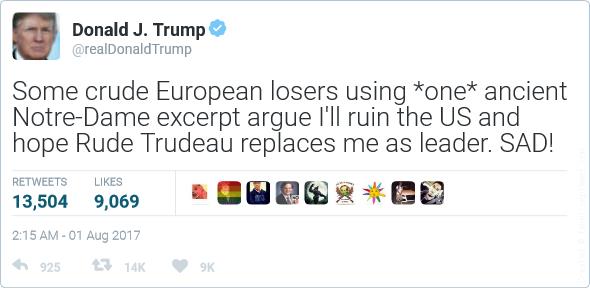 RUDE:


What the ladies are pining for =
A hot friend with a large penis.


Mike Mesterton-Gibbons
Next author

GENERAL:


Time is a great healer =
Harm? I let age erase it!



ENTERTAINMENT:


Oliver Twist by Charles Dickens =
Best child slave workers in city.



OTHER NAMES:


The United States of America =
Meta-truths in a sea of deceit



Irritable bowel syndrome =
Bloat blows in my derriere.



ANAGRAMMY CHALLENGE:


"Remember, if you ever need a helping hand, it's at the end of your arm. As you get older, remember you have another hand: the first is to help yourself, the second is to help others." - Audrey Hepburn
=
Here you have a pair of hands. You use the thumbs there chiefly to spread more and more feeble lies over the internet. You do need the other fingers, mainly to grab her (her pussy)" - Donald Trump


Phil Carmody
Next author

RUDE:


Santa Claus' sack =
As slack as a cunt.


Rick Rothstein
Next author

GENERAL:


Alternative facts ~
can't avert fat lies.



PEOPLES NAMES:


Russian President Vladimir Putin =
A stern individual inspires Trump.



The talented comedian Don Rickles =
His entire act, end-to-end, mocked all.


Rosie Pereira
Next author

GENERAL:


Air travel these days =
Their delays are vast.


Rosie Perera
Next author

TOPICAL:


United Airlines passenger =
Seen in despair, suing later.



ANAGRAMMY CHALLENGE:


"Airplane travel is nature's way of making you look like your passport photo." (Al Gore)
=
Perhaps I fly to Tokyo or Korea as a swan, arrive looking ugly as Trump in a toupee. LOL!


Scott Gardner
Next author

GENERAL:


Oral herpes medications =
Creams aid sore on the lip.



TOPICAL:


The Paris climate deal =
Halt rapid sea-ice melt.



USA still fears ~
assault rifles.



MEDIUM LENGTH:


Top five bond girls:
1. Honey Ryder
2. Tatiana Romanova
3. Jill Masterson
4. Teresa Di Vicenzo
5. Vesper Lynd
=
1. International diver in Dr. No
2. Venal Soviet spy
3. Smothered by gold paint
4. Crazy for James
5. Eva's role


Tom Myers
Next author

GENERAL:


I hate long goodbyes =
Do go hastily -- be gone.



Crisis management =
It means screaming.



OTHER NAMES:


The U.S. Mail ~
haul items.



RUDE:


Two days of shore leave =
A steady love of whores.



Female organs ~
feel an orgasm.


Tony Crafter
Next author

TOPICAL:


Tony Blair calls for people to rise against Brexit =
Past political interferer says, "Ignore ballot box!"



Playboy's Hugh Marston Hefner is dead =
Greedy oaf's had his last bunny romp, eh?



New misconduct allegations against Dustin Hoffman =
Women in angst accuse him of assault and tit-fondling.



PEOPLES NAMES:


1. Barack Obama 
2. George W Bush 
3. Donald Trump =
1. A black, wet-rag paragon 
2. Oh, so dumb! 
3. Dumber



MEDIUM LENGTH:


The Countries With The Most Smokers
1. Montenegro
2. Belarus
3. Lebanon
4. Macedonia
5. Russia
6. Slovenia
7. Belgium
8. Luxembourg
9. China
=
1. We've lung-rot
2. Coughers unite!
3. Bronchial
4. I smell smog!
5. Nicotine union
6. Do mass harm
7. Blame Brexit!
8. Nauseous breath
9. Smoke tea!



Top Five Beatles Songs (vulture.com)
1. A Day In The Life
2. Strawberry Fields Forever
3. Penny Lane
4. She Loves You
5. Please Please Me
=
1. Effectively, a fearful LSD event?
2. Based on an orphanage in Liverpool
3. Busy Liverpool street
4. Yes! She's my sweet!
5. Pleasure me!



Top five things that a woman looks for in a man:
1. A good sense of humour
2. Romance
3. Attentiveness
4. Intelligence
5. Dominance
=
Then... a man in a woman:
1. Attractive face
2. Stunning figure
3. Phenomenal legs
4. Is into food and loves to cook
5. Immense hooters!



ANAGRAMMY CHALLENGE:


The six wives of Henry the Eighth,
Catherine of Aragon
Anne Boleyn
Jane Seymour
Anne of Cleves
Catherine Howard
Catherine Parr
=
The Spanish wife
Execution for treason.
They enjoy an enchanting love
German-born wife
Errancy cost her her head
Aha! Here! Alive!



"What's the first thing you'd do if we pretend you could travel back in time?"
=
I'd buy gold, invest with Microsoft, and pocket ready wealth in the future!



LONG:


For many years, two statues, one male and one female, had stood facing each other in the park.
Then, one day, an angel descended from heaven and said to them: "You have been such exemplary statues that I propose to give you a very special gift. So..." she smiled benevolently, "I will bring you both to life for thirty minutes. During this time you will be allowed to do absolutely anything you want."
Then, with a clap of her hands, the angel brought them both to life.
The two statues approached each other very shyly at first, and then made a quick dash into the bushes, from behind which there was heard a lot of giggling and rustling and shaking of branches.
Twenty minutes later, the two statues reappeared from behind the bushes, both with very wide grins spread across their faces.
"You realize that you still have ten minutes left?" said the kind angel, winking at them knowingly.
With an even wider grin, the female statue turned to the male and said, "Quick! Let's do it once more then!
"Only this time you hold the pigeon down and I'll poop on its head."
=
A fifteen year old Amish boy and his father were in a city shopping mall for the first time.
They were amazed by most of the things they saw, but especially by two silver walls that could move apart and then slide back together again.
'Ooh, Father, what kind of mystical thing is this?' asked the animated young fifteen-year-old.
His father (not having seen an elevator before) murmured, 'Son, I have not seen anything like this in my life, I do not know what it is.'
While they watched in awe, a hunched-up old lady in a wheelchair moved up to the sliding walls and pressed a button.
They opened, and she proceeded to roll through them into a small room. The walls closed and the boy and his father watched as various numbers above lit up in sequence.
Like statues, they continued watching until it reached the last number. Then the numbers started to light up in reverse order. Next thing, the walls opened again and a gorgeous young blonde stepped out.
The father, not taking his eyes off the young woman, said quietly to the boy...
'Son, go get your Mother'



Several men were in a golf club changing room. Suddenly, a cell-phone on a bench rang and one of the men engaged the hands-free speaker function and started to chat.
Everyone else in the room stopped to listen.
MAN: "Hello"
WOMAN: "Hi babe, it's me. Are you down at the club?"
MAN: "Yes."
WOMAN: "I'm doing some shopping right now and I've found this gorgeous, pure leather jacket. It's only $2K; do you mind if I buy it?"
MAN: "No, just go ahead if you want it."
WOMAN: "I also stopped by the Mercedes dealership and viewed their latest models. There was this cherry-red one that I particularly loved."
MAN: "How much?"
WOMAN: "$70K."
MAN: "Sounds good. Go ahead, but for that price I'd want it with all the bells and whistles. Leather upholstery and so on."
WOMAN: "Oh, wow! Right, I'll do the deal! Oh, and one other thing... I was just talking to Judith Hoddle and found out that the house I wanted last year is back on the market. They're asking $980K."
MAN: "Bid $900K. They'll probably take it. If not, I'd be happy to do the extra eighty-thousand if that's what you want."
WOMAN: "Oh, right! I love you so much, honey. See you later!"
MAN: "Bye. Love you too."
The man hung up. The other guys in the locker room were gawping at him in open-mouthed astonishment.
He turned round and said: "Anybody know whose phone this is?"
=
Ring, ring... Ring, ring... ring...
'Hello?'
'Hey there, honey, it's Daddy. Is Mommy near the phone?'
'No, Daddy. She's in the bedroom with Uncle Alan.'
(After a brief pause)
'... But you haven't got an Uncle Alan, honey.'
'Yes I have, and he is upstairs in the bedroom with Mommy, right now.'
(Brief pause...)
'Er... okay, honey, this is what I want you to do: Lay the telephone down on the table. Then go upstairs, knock on the bedroom door and call out to Mommy that Daddy's car is just coming into the driveway. Okay?'
'Okay, I'm going up now.'
(A few minutes later...)
'I did what you asked me to, Daddy."
'Fine, and exactly what happened, honey?'
'Well, Mommy got all scared, jumped out of bed with no clothes on and ran around screaming. Then she tripped over the rug and hit her head real bad on the dresser. Now she isn't moving at all!'
'Oh, my God! So, what about your Uncle Alan? Can he assist?'
'No, he jumped out of the bed with no clothes on as well Then, he was so scared that he jumped straight out of the back window and fell head-first into the swimming pool. But I guess he didn't know that you took out all the water last week to clean it. He hit the bottom of the pool and I think he's been killed.'
(A long pause...)
(A longer pause...)
(An even longer pause...)
'Swimming pool...? Er... is that 99800702?'
'No, I think you have the wrong number...'



A wealthy attorney parked his brand new Porsche in front of his office, ready to show it off to his colleagues.
As he was getting out, a truck came hurtling down the road and completely ripped off the driver's door.
A passing cop was near enough to witness the incident and drew in, lights flashing, behind the now door-less Porsche.
Before he was able to ask any questions, the attorney started screaming hysterically about his precious Porsche being ruined and that it would never be the same again.
The cop shook his head in amazement, "I don't believe how materialistic you lawyers are," he said. "You're so focused on your expensive possessions that you forget the truly important things in life."
"Why do you think that?" asked the lawyer.
The cop replied, "Well, don't you even realize that your left arm is missing? It was severed when the truck hit you!"
"OH, MY GOD!" screamed the lawyer... "My Rolex!"
=
After a few beers down at our popular local pub, The Crowing Cockerel, the conversation turned to who owned the most expensive watch. I showed mine first.
"Okay, you see this amazing beauty? It's a Rolex Oyster, worth a cool three grand," I announced cockily.
My pal Henry smiled and pointed to his wrist. "Oh, yes? See this? It's an elite white gold Patek Phillipe and I happily paid the best part of twenty-five grand for it a year ago."
This evoked several 'oohs' and 'ahs' of astonishment from the locals around us.
Then my other pal Gary rolled up his sleeve to show us his watch. "Gee, you guys, those prices are chicken feed," he snorted . "You see this? It cost me two-hundred-thousand."
Henry and I were stunned into silence. We stared at Gary's arm for a while longer then I said gently: "But Gary, that's only a basic Casio Quartz."
"Yeah, I know," he sighed. "My former wife bought it for me then found it in her sister's bed."



SPECIAL:


IF I ONLY HAD A BRAIN/IF I ONLY HAD A HEART



POEM - A STRANGE WILD SONG



CHRISTMAS DAY IN THE WORKHOUSE



RUDE:


If you miss the toilet's pan ~
you piss on the mat. It's life.



She released the most momentous fart =
Mrs steamed out lots of sheer methane.



A wet tee-shirt and no brassiere =
Her bared tits were a sensation!


View
GENERAL:


Fidget Spinner =
Fingertips' end.


---
Number of nominations, by author:
Adie Pena: 14. Christopher Sturdy: 5. David Bourke: 3. Dean Mayer: 1. Dharam Khalsa: 7. Ellie Dent: 15. Jesse Frankovich: 2. John Ramos: 1. Jon Gearhart: 1. Josiah Winslow: 2. Julian Lofts: 2. Meyran Kraus: 5. Mike Mesterton-Gibbons: 5. Phil Carmody: 1. Rick Rothstein: 3. Rosie Pereira: 1. Rosie Perera: 2. Scott Gardner: 4. Tom Myers: 5. Tony Crafter: 18. View: 1

---
The Anagrammy Awards
---